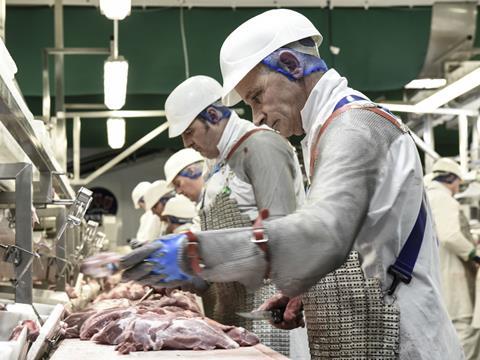 Struggling Danish Crown's battle to turn its fortunes around have been dealt another blow after UK subsidiary Tulip lost a lucrative own-label pork contract with M&S.
Tulip, which posted combined net operating losses of £58m over the past two financial years, lost the M&S cooked and sliced meat contract to rival Cranswick earlier this month.
The contract was among the most valuable supermarket deals on Tulip's books, according to industry sources, with the majority of products manufactured at Tulip's Boston site in Lincolnshire.
Tulip lost the contract following a competitive tender process, said M&S. However, the retailer stressed that Tulip remained an "important supplier for other products".
The M&S contract loss comes as Tulip and the wider Danish Crown business have been forced to initiate two rounds of major cost-cutting in less than six months.
In October, it warned that "ongoing problems" with profitability at Tulip had led it to cut 150 jobs and to launch a £24m cost reduction drive.
However, costs were still "far too high", Danish Crown said. It announced an additional 400 job cuts across the group last month, as part of a new £41m cost-saving programme for 2018/19.
Tulip was operating in an "extremely demanding marketplace" that would see business wins and business losses as retailers reviewed their supply bases, said a Tulip spokesman.
"Our strategy remains unchanged. We have robust plans in place to transform the business and are making good progress in developing key customer partnerships."
This had been demonstrated in recent weeks with Tulip signing "new long-term agreements with two key strategic customers", he added. Contract wins included "significant volume gains with Tesco" that would see Tulip supply all entry-level and standard-tier bacon from September.
Cranswick's new contract with M&S will kick off in August. The listed meat giant has had problems of its own, with its share price dropping by a fifth last week due to concerns over costs at its new poultry site in Suffolk.
Cranswick declined to comment.