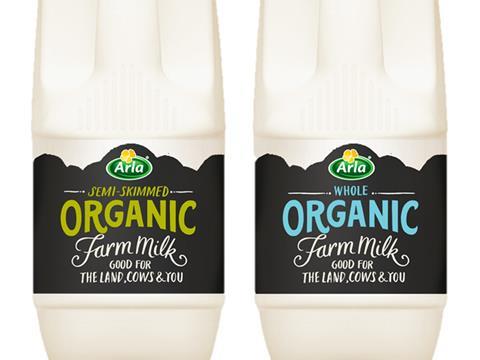 Farmer-owned Arla Foods has agreed to acquire the Yeo Valley dairy business as it seeks to cash in on growing consumer demand for organic produce.
The Yeo Valley yogurt, ice cream, cream and desserts business will continue to be run independently through Yeo Valley Group, which remains under the ownership of the Mead family.
The deal – for an undisclosed price – gives farmer-owned dairy co-operative Arla the rights to use the Yeo Valley brand in milk, butter, spreads and cheese under an intellectual property licence with Yeo Valley.
"The potential for future investment in range through this licensing agreement with Yeo Valley provides a significant opportunity to offer a greater choice to consumers at attractive prices," said Arla Foods MD Tomas Pietrangeli.
"Our ambition is to encourage customers to trade up from standard to organic milk, butter and cheese, driving overall growth for organic across dairy categories."
The deal comes after a report by the Soil Association revealed yesterday that organic sales rose 6% to hit an all-time high of £2.2bn in 2017, with dairy products claiming the biggest share of the market, approaching 29% of all organic sales.
Arla added this morning that there was an opportunity for the dairy sector to convert more of its customers from standard to organic dairy. It plans to invests in innovation and range under both the Yeo Valley and Arla brands.
Pietrangeli said: "Arla Organic Free Range milk has driven 60% of all the growth within the organic milk category in the last 12 months, with 70% of all Arla Organic Free Range milk sales attributable to customers who would have not previously purchased organic milk.
"Through the licence to use the Yeo Valley brand, we believe that we can further drive organic penetration of the milk market."
Yeo Valley owner Tim Mead said Arla's farmer-owned credentials were aligned to the values and ethos that the Yeo Valley brand was based on: "Supporting British Family Farms".
"We have a long-held ambition to grow organic dairy in the UK, because at Yeo Valley, we believe that organic dairy is better for the planet, for the cows and for health," he added.
Currently in the UK, only 4% of milk sold in the UK fresh milk market is organic [Nielsen], which compares with far greater shares of organic in the milk market in Germany (10%), Sweden (16%) and Denmark (29%) [European zone data].
"This is a great chance for us to catch up with our European neighbours" Mead said.
Pietrangeli added: "Organic milk has a key role to play as consumers increasingly look for ways to make their diets healthier. Its production without the use of artificial or manufactured herbicides and fertilisers and with high standards of animal welfare are key reasons it is in growth, especially with younger consumers.
"Arla is working with industry bodies to continue to help consumers understand the additional benefits that come with organic milk."
Completion of the transaction will take place following merger approval by the UK Competition and Markets Authority.