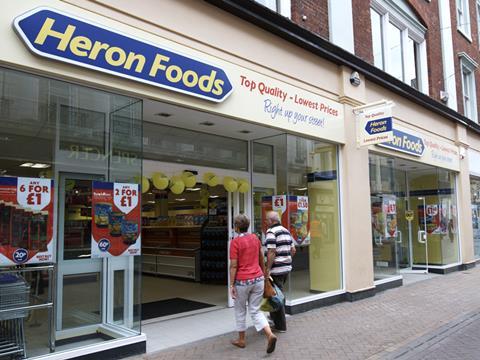 B&M Bargains (BME) has swooped for discount convenience retailer Heron Food Group in a deal worth £152m.
Heron Foods predominantly operates in the North of England, with 251 stores selling ambient, frozen and chilled lines. B&M said its initial plans to expand and develop the Heron business include opening between 10 and 20 new stores per annum.
Co-owner and manager Michael Heuck will retire from the business following the deal, Andrew and David Heuck will remain in their existing trading and finance roles.
Shares in B&M are up 0.6% so far this morning to 362p.
B&M CEO Simon Arora said: "B&M is already the UK's leading general merchandise discount retailer, serving four million shoppers per week. The addition of a complementary, proven discount convenience grocery brand to our own structural growth story gives the combined business an even longer, exciting growth runway."
David and Andrew Heuck added: "Both companies share a vision to bring great value to customers and the combination of Heron's skills with the expertise and resources of B&M will mean the creation of a potent new force in the structurally growing convenience sector. Today's transaction secures for Heron's loyal and hardworking workforce a perfect long term home within the B&M Group and provides an exciting platform for the roll-out of more Heron stores nationally."
Heron currently employs about 3,800 staff and has about 1,200 SKUs in it stores, which average about 2,500 sq ft of retail space compared with B&M's UK average of 19,000 sq ft.
It revenues grew 3% on a like-for-like basis in 2016 to £274.4m, with EBITDA of £19.1m and pre-tax profits of £8.6m.
The total enterprise value of the takeover is £152m, including debt, with an initial cash consideration of £112.1m paid by B&M on exchange and completion of the acquisition today. Up to another £12.8m will be paid based on the EBITDA performance of Heron up to 31 March 2019.
Liberum analyst Wayne Brown said: "This deal gives B&M another growth channel which is in a structurally favourable segment of the market and we can see why this would be appealing to the group.
"There is much consolidation in this segment of the market, with Tesco potentially acquiring Booker, McColls having signed a new supply agreement with Morrisons, and Sainsbury rumoured to wanting to buy Nisa.
"B&M state that much of the growth in this market has been achieved at premium pricing and it sees an opportunity here."
He added: "Questions to ponder; will this deal raise concerns that B&M's growth is more limited in its core business, could this deal prove to be a distraction and will it be incorporated in the B&M supply chain though it likely has a very different product offering."
B&M European Value Retail completed the deal through its EV Retail subsidiary. B&M was advised by Bank of America Merrill Lynch, PwC, Addleshaw Goddard and Gordons.