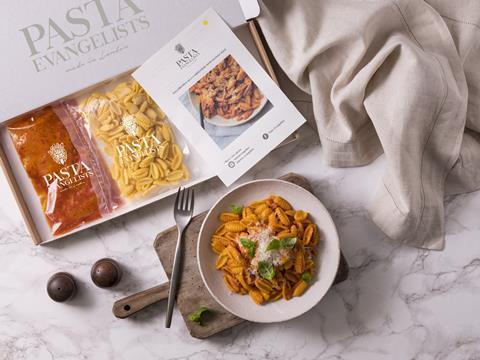 Italian food giant Barilla has snapped up direct-to-consumer business Pasta Evangelists to tap into booming e-commerce demand in the UK during the coronavirus pandemic.
The value of the majority stake in the UK-headquartered fresh pasta maker, founded by Alessandro Savelli in 2016 and backed by Great British Bake-Off judge Prue Leith, is undisclosed, but is reported to be about £40m.
Savelli will continue to run Pasta Evangelists as a standalone business outside Barilla, with co-founders Chris Rennoldson and Finn Lagun also remaining as shareholders.
The deal represented a new step in Barilla's international growth, especially in the UK, with a focus on growing digital markets.
Demand for food delivery, recipe boxes and meal kits has soared during the coronavirus pandemic in the UK with consumer stuck at home.
Pasta Evangelists delivers boxes of fresh pasta and sauces to the homes of subscribers. Its sales increased by more than 300% during 2020, having sold in excess of one-million portions of pasta during the year, up from just 200 portions when it launched in 2016.
The business also has a fast-growing on-demand offer, as well as supplying its pastas and sauces across Ocado, Amazon and Marks & Spencer, with a physical concession in the Harrods Food Hall.
Barilla said it would support Pasta Evangelists' growth plans in the UK and, in the future, overseas.
Barilla Group chief marketing officer Gianluca Di Tondo added: "The Covid-19 crisis has changed consumer behaviour, the way people work, and the way products are distributed.
"The consumer demand for freshly made, premium food is growing, as well as the boom in e-commerce and subscription-based consumer products. We are excited to expand our family with a brand that underlines these major trends."
Barilla has identified the UK as a key market for future expansion, which will be backed by the creation of a new digital hub in London working with the Parma headquarters.
The family owned company was founded in 1877 by Pietro Barilla and is run today by great-grandsons Guido, Luca and Paolo Barilla, with annual revenues of €3.6bn.
Pasta Evangelists has completed several fundraising rounds since its launch, with £3.5m raised in early 2020 from £3.5m from institutional investors Pembroke VCT and Guinness Asset Management, which will now exit the business.
Savelli said: "With Barilla's support, we look forward to taking Pasta Evangelists to the next level, including through internationalisation and scaling up our production whilst staying true to our core values: freshness, craftsmanship and italianità, or Italianness. As an entrepreneur, and as an Italian, this is a dream come true."