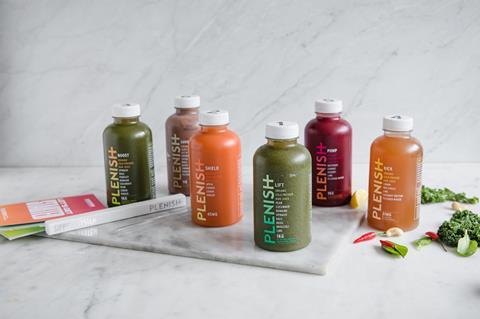 Britvic has strengthened its presence in the fast-growing plant-based nutrition category with the acquisition of Plenish for an undisclosed sum.
Kara Rosen started the brand in 2012, making cold-pressed juice in her kitchen and selling direct to consumer.
The brand has since expanded into plant-based milks, "plant-powered" juice drinks and functional shots, which have gained national distribution across the mults.
Its juice-led DTC business has continued to grow at more than 100% a year and the plant-based milk brand is one of the fastest growing in the UK.
Britvic said the business was "one of the most exciting brands in its category".
The group added it recognised the opportunity presented by the plant-based drinks segment, which is on course to be worth more than £500m by 2024.
As well as giving the Robinsons owner more exposure to the plant-based space, Plenish helps with Britvic's sustainability ambitions, adding an accredited B-Corp and certified carbon-negative business to its portfolio.
Britvic CEO Simon Litherland said the group's strong relationships with retailers, supply chain and distribution reach would fuel further momentum at Plenish and provided a platform for its expansion and long-term growth.
"I am really pleased that Kara Rosen, the founder of Plenish, and her team will be joining Britvic, and look forward to working with them and benefiting from their native expertise in plant-based nutrition, direct-to-consumer and digital marketing," he added.
Rosen said: "I started Plenish nine years ago in my kitchen to help make it easy and delicious for people to improve their health and make a positive impact for the planet.
"Our plant-based drinks are still made like I originally made them at home – with best-in-class ingredients sourced from sustainable, organic farms and no additives. I'm so excited for Plenish to join forces with Britvic, who I've long admired as a brilliant builder of brands and shares similar values, particularly around healthier people and planet.
"Together we can reach more people in more places with products and programmes that help you feel good, made in a way that you can feel good about."