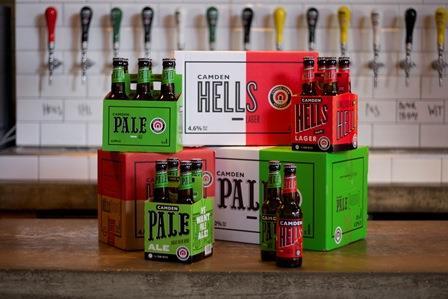 Camden Town Brewery has agreed to sell 20% of the business to a Belgian manufacturing family for £10m.
The investment by the unnamed family values the brewer behind the Hells Lager brand at £50m, significantly lower than the company's £75m valuation when it launched a £1.5m crowdfunding pitch in February. Camden has since smashed its target, bringing in £2.2m from 2,076 investors for 4.4% equity.
Founder Jasper Cuppaidge said: "The investment gives me, the business and the brand security. It gives us £10m which we can go and buy a new brewery with and not have to worry about debt restructuring."
He added the downward valuation was beneficial to individuals who had already invested in the brewery on Crowdcube as it meant their stake would get bigger.
"We talked about valuation a lot with the family and discussed what our calculation was based on and they came back with their own and we met in the middle," Cuppaidge said. "We were very comfortable with that and wouldn't have taken the investment if we felt the valuation was poor. I was really excited when they came back with £50m. We had a lot of people of doubting our £75m valuation, but for a big manufacturer which has been in business a long time to come back with £50m validates the company."
The £10m investment, which has been agreed at a preliminary level and is still subject to due diligence, is priced at the same level per share as the crowdfunding campaign but the Belgian family will have preferential shares.
Cuppaidge is also hoping the news will spur another injection of funds from Crowdcube, with the campaign now extended till 21 April: "The more we can get from the crowd the better".
The pitch is currently 48% overfunded and can potentially go as high as £3.7m, giving away about 9% of the brewer.
Cuppaidge and the original shareholders – made up of his father-in-law, wife and three best friends – would still own more than 70% of the business after the investment and Crowdcube campaign completes.
"I didn't want an investment coming in which took away any power from me; I am still the boss," Cuppaidge said. "I wanted to make that very clear to everybody. I want to be on the payroll for a long, long period of time; I'm not looking to retire or sell."
Camden, founded in 2006, is looking at sites for a second brewery to complement its current home under the arches of Kentish Town station in central London. The brewery is also looking to open a second bar and has just agreed a deal with Marks & Spencer to stock four packs of its beer in 350 select stores nationwide.