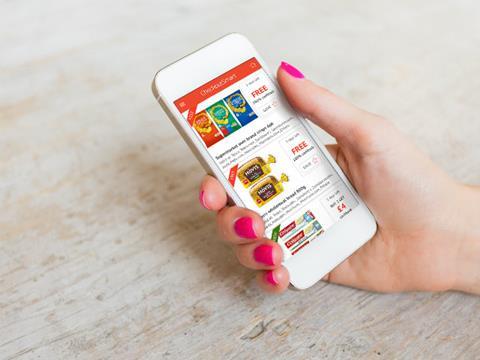 Cashback app CheckoutSmart has acquired German mobile shopping reward company Scondoo to extend its reach in Europe.
The London-based business, which has more than a million accounts in the UK, said the deal would give it access to more than 100 million potential new customers as Europe's appetite for grocery cashback offers continued to grow year-on-year.
CheckoutSmart added it would also benefit from the Berlin-based company's extended functionality, including its availability tool, user generated content and personalised campaigns.
The deal also doubles the number of employees at the group to 30 members of staff.
"This is an incredibly exciting development which cements CheckoutSmart's position as Europe's leading digital grocery cashback solution," CheckoutSmart MD Paul Lees said.
"Scondoo is the number one player in Germany. CheckoutSmart is the number one player in the UK. Together, we are now Europe's largest grocery cashback platform with the kind of pan-European reach that our fmcg clients crave."
CheckoutSmart, established in 2014 by Chris Howarth and Paul Lees, works with more than 100 fmcg partners in the UK, which have used the app to help launch new product launches, drive sales promotions and build brand loyalty.
App users can get cashback from shops at all big four supermarkets, Waitrose, Co-op, M&S, Ocado, Boots, Iceland, Spar, Superdrug, Marks & Spencer, Aldi, Lidl and others.
Shoppers browse offers and buy in store, before taking a photo of their receipt and uploading to confirm their purchase. Receipts are analysed automatically with cashback credited to the member's account.
CheckoutSmart's money-back deals for grocery have recently been embedded into online shopping aggregator Mysupermarket.
"Acquiring Scondoo also opens up the option to incorporate elements of their user engagement platform – features such as its click-to-reveal-offer model and dynamic location redemption functionality really interested us," Lees added.
"As a consequence of our extended European reach, we'll be able to work with our clients to generate tons more unique offers for our members."
Early-stage investors in CheckoutSmart include Duncan Jennings, founder of vouchercodes.co.uk, Glenn Elliott and Chris Whitcombe, founders of employee benefits site Reward Gateway, Quidco founder and Paul Nikkel.