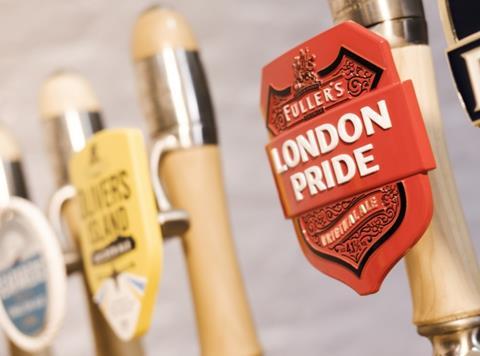 Top story
Japanese drinks giant Asahi has acquired British brewer Fuller, Smith and Turner's (FSTA) entire beer business in a £250m deal.
The global booze supplier's regional subsidiary Asahi Europe will take over control of the business, which includes beer brands London Pride and Frontier.
The business being sold comprises the entirety of Fuller's beer, cider and soft drinks brewing, wine wholesaling, distribution, and the Griffin Brewery, Cornish Orchards, Dark Star Brewing and Nectar Imports.
Fuller's believes Asahi is the "ideal owner" and "create the right environment for the beer business to flourish in the future and protect the Fuller's brewing heritage", it said in a trading update.
The move will streamline Fuller's operations as a premium pub and hotel operator, it added. The two business' will for a "strategic alliance" to ensure access to the newly acquired brands.
Proceeds from the sale will be used to drive investment in the hospitality part of its business, which provides 87% of profits, it said.
The £250m valuation includes the business's net debt. Net cash proceeds are expected to be around £205m, Fuller's said. The company said it planned to return between £55m and £69m to shareholders.
"This deal secures the future of both parts of our business including protecting the heritage of the Griffin Brewery in Chiswick, which was particularly important to the Fuller's Board," commented Simon Emeny, chief executive of Fuller's.
"Brewing has formed an integral part of our history and brand identity, however the core of Fuller's and the driver of our future growth is now our premium pubs and hotels business.
"I am delighted that this transaction maintains Fuller's long association with the Beer Business and that we will continue to enjoy a strong relationship with Asahi as a key supplier.
"Asahi, as a company recognised for brewing excellence, is an appropriate custodian of our rich brewing history and the Griffin Brewery, and will ensure the Fuller's Beer Business brands will reach an even wider global audience."
Akiyoshi Koji, CEO of Asahi Group Holdings, said: "We have long admired the brewing business and exceptional beer brands that Fuller's has built over the years and the high degree of respect it commands throughout the global beer industry.
"We strongly believe that the brands of the Beer Business, including London Pride, Frontier and Cornish Orchards among others, complement our premium portfolio in the UK market.
"In particular, London Pride is a fantastic brand with an illustrious heritage dating back to the 1950s and we are excited about its untapped international potential which Asahi has the scale and global network to unlock."
The London-based brewer also issued a trading statement, heralding a 5.6% rise in pub and hotel sales over the ten weeks to 19 January.
Shares in Fuller's rose 26.1% to 1,146.5p in early trading following the news.
Morning update
Irn-Bru manufacturer AG Barr (BAG) has predicted a jump in revenues, despite raising concerns over continued economic uncertainty and regulatory intervention in the soft drink industry.
The Scottish drinks maker said it expects to report sales of £277m for the 52 weeks ended 26 January, 5% up on the previous year.
However, the rise in revenues was accompanied with worries over the business uncertainty in the run up to Britain's imminent departure from the EU.
Last year, the supplier was impacted by the introduction of the soft drink levy, it said, resulting in value-driven volume growth.
Value sales rose 8% in the 48 weeks to 30 December, while volumes jumped a more modest 3%, it said.
"Throughout the year we have remained committed to investing across our brands, assets and people which, while supporting our growth, has had a moderate impact on operating margin," the company said in a trading update.
"Looking ahead, the current political and economic uncertainty in the UK looks set to continue. For the soft drinks industry, further regulatory intervention is on the horizon and consumer dynamics continue to evolve.
"Our tight control on costs has been maintained and our balance sheet remains robust. The £30m share repurchase programme has continued and we now expect it to complete during the course of 2019, slightly later than previously indicated."
Elsewhere, in this week's issue of The Grocer, Steve Francis speaks exclusively about Patisserie Valerie's future and new administration documents reveal Crawshaw Group is facing £15m in claims from creditors out of pocket. Read these stories and more at The Grocer's finance section.
The FTSE 100 has clawed back some of yesterday's losses, as it rose 0.3% to 6,829pts this morning.
The early risers include Hotel Chocolat (HOTC), up 1.7% to 299.9p, PayPoint (PAY), up 1.7% to 838.7p, and Smurtfit Kappa Group (SKG), up 1.3% to 2,138p.
The early fallers include Premier Foods (PFD), down 4.3% to 33.5p, Fevertree Drinks (FEVR), down 4% to 2,831p, and PZ Cussons (PZC), down 1.4% to 206.8p.
Yesterday in the city
The FTSE 100 closed in the red again yesterday, down 0.4% to 6,818pts, as global market unrest continues to press down on the index.
The day's top performer was Fevertree (FEVR) which returned to the heady growth its used to, surging 13.5% to 2,948p, reported a 39% surge in annual revenues for its full 2018 financial year.
Over the year, UK sales jumped 52% with "robust rate of sales growth in both the on and off trade channels".
Another strong riser was Angus Thirlwell's Hotel Chocolat Group (HOTC), which jumped 4.4% to 295p, after reporting 15% growth in past quarter.
Other risers included Total Produce (TOT), up 2.8% to 148p, Just Eat (JE.), up 2.4% to 667.2p, and Greggs (GRG), up 1.8% to 1,595p.
After warning investors on Wednesday that it would need to scale back its number of pub openings in the next year, brewer Marston's (MARS) dropped 3.5% to 94.5p.
Other fallers included Reckit Benckiser (RB.), down 3.3% to 5,593p, Devro (DVO), down 3% to 160p, and Premier Foods (PFD), down 2.4% to 35p.