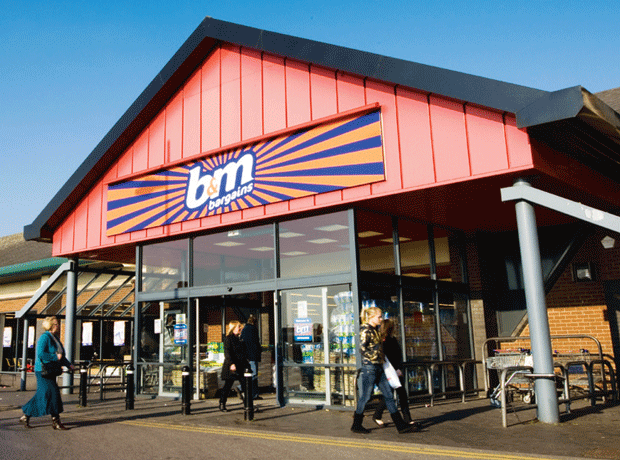 Top story
B&M Bargains owners B&M European Retail (BME) has sold its loss-making German arm Jawoll to a consortium of German investors for €12.5m (£10.9m).
The retailer announced this morning that, following a strategic review announced in November 2019, it has exchanged contracts for the sale of its 80% stake in Jawoll.
It will be purchased by a consortium led by AC Curtis Salta, a company funded by German investor Adiuva Capital, and including Wiebke Stern, Sebastian Dorin, Alexander Dorin, STIWEC and Jalogy Beteiligungs.
The €12.5m deal consists of €2.5m payable on completion and €10m payable at the end of 2020 conditional on the on-going trading of Jawoll.
In addition, on completion the purchaser's consortium will repay Jawoll's bank debt, which has a facility limit of up to €16m, and had been guaranteed by the Group.
Completion of the transaction, which is conditional upon German competition authority clearance being granted, is expected to occur within the next 28 days or by a 'long stop' date of 1 June 2020.
As part of the deal B&M will write off €5.6m of intra-group trading accounts balance and €43m of intercompany loans.
Accordingly, the transaction will not have a material impact on the group's leverage.
Jawoll, together with its wholly owned subsidiary, Jawoll Vertriebs, is a general merchandise discount retailer with 89 stores in the North-West of Germany.
The consolidated losses of those entities as reported for the financial year ended 31 March 2019 was £15.4m and the value of their gross assets as at 28 September 2019 was £192.6m.
B&M shares are up 3.8% on the news to 317.5p.
Morning update
The Bank of England has slashed interest rates by 0.5%pts back to a historic low of just 0.25% as an emergency response to the coronavirus outbreak.
The cut means borrowing costs are now back down to the lowest level in history, which were first instigated in the wake of the Brexit vote.
The Bank said it would also free up billions of pounds of extra lending to help banks support companies trade through the crisis. The BofE said its measures will free up an additional £190bn for banks to lend.
The Bank stated: "Although the magnitude of the economic shock from Covid-19 is highly uncertain, activity is likely to weaken materially in the United Kingdom over the coming months.
"Temporary, but significant, disruptions to supply chains and weaker activity could challenge cash flows and increase demand for short-term credit from households and for working capital from companies. Such issues are likely to be most acute for smaller businesses. This economic shock will affect both demand and supply in the economy."
"The reduction in Bank Rate will help to support business and consumer confidence at a difficult time, to bolster the cash flows of businesses and households, and to reduce the cost, and to improve the availability, of finance."
The move comes as the UK Chancellor prepares to announce further measures to boost struggling companies in the Budget later today.
The Bank's measures have boosted the FTSE 100 by 1.6% to 6,057.5pts this morning.
Early risers include Premier Foods (PFD), up 3% to 29.1p, Bakkavor, up 2.6% to 90.1p and Morrisons (MRW), up 2.5% to 180.9p.
Fallers include FeverTree (FEVR), down 2,8% to 1,123p, Britvic (BVIC), down 0.9% to 813.5p and SSP Group (SSPG), down 0.6% to 422.5p.
Yesterday in the City
The FTSE 100's rally yesterday morning proved to be short lived, with the temporary boost to share prices in early trading wiped out by the end of the day as the market closed down 0.1% to 5,960.2pts.
FTSE 100 names on the slide included Imperial Brands (IMB), down 3.9% to 1,496.2p, British American Tobacco (BATS), down 3% to 2,889p, Coca-Cola HBC (CCH), down 2.9% to 2,163p and Compass Group (CPG), down 2.6% to 1,438.5p.
Sainsbury's (SBRY) was also amongst the big FTSE fallers, dropping 3.5% to 198.7p, while Morrisons (MRW) was down 2.4% to 176.5p and Tesco (TSCO) fell by a more modest 0.7% to 242.1p.
The day's biggest grocery and consumer fallers included Marstons' (MARS), down 4.7% to 74.9p, Bakkavor, down 4% to 87.8p, McBride (MCB), down 4% to 65p and Stock Spirits (STCK), down 2.8% to 168.6p.
Risers yesterday included Domino's Pizza Group (DOM), up 8.4% to 308.5p after naming a new chairman, Finsbury Food Group (FIF), up 3.9% to 80.5p, CAKE Box (CAKE), up 3.7% to 167p, McColl's (MCLS), up 3.7% to 25.1p and FeverTree (FEVR), up 2.3% to 1,155.5p.