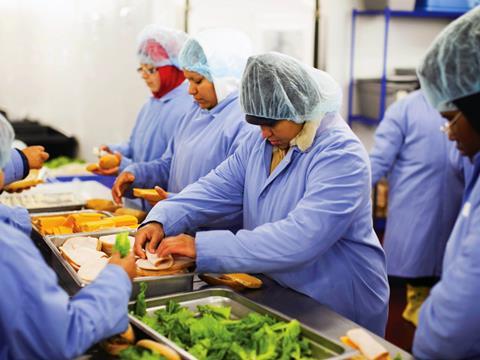 Top story
Convenience food group Greencore (GNC) is to sell its entire US business to American contract manufacturer Hearthside Food Solutions for £817m.
Greencore said the proceeds of the deal will be used to strengthen its balance sheet and plans to declare a special dividend of 72p per share. The deal is expected to close in late November 2018.
The move comes after Greencore was forced to restructure its US arm after poor performance in the area led to the company posting a profit warning in March 2018.
Greencore gobbled up Tyson and Kraft Heinz supplier Peacock Foods in 2016 in a $747m deal it claimed would "quadruple" sales in the country.
But its US factories reportedly had large amounts of spare capacity and has attempted to drum up new business in 2018.
The Ireland-based private label sandwich supplier will enhance its financial flexibility and build on its position in its core UK market, it said.
"We believe that the proposed sale of our US operation represents a compelling and immediate realisation of value for Greencore's shareholders," said Greencore CEO, Patrick Coveney.
"We have always had a firm conviction on the underlying value and growth prospects of our US business and believe that this offer fully reflects that.
"Looking ahead, we are confident that we can deliver further growth and returns in the dynamic UK market.
"The proposed transaction would enhance our strategic and financial flexibility, which would allow us to build on our industry-leading position in our core UK market whilst also taking advantage of emerging organic and inorganic growth opportunities."
Greencore employs approximately 15,000 people in 30 manufacturing facilities across the UK and the US.
On average, it manufactures around 1.5bn sandwiches, 600m salad and lunch kits, and 140m ready meals every year.
Morning update
Footfall on UK high streets continued to fall last month, as footfall slumped 1.7% compared to September 2017.
The BRC-Springboard footfall and vacancies monitor for September showed a slightly sharper slump in footfall, following a 1.6% drop in August.
High street footfall fell 2.2% according to the report, maintaining the decline on high streets in August.
"Shoppers are feeling the squeeze of increasing shop price inflation and little real wage growth," said BRC chief executive Helen Dickinson.
"This month's footfall figures are yet further demonstration of the increasingly difficult operating environment British retailers are facing. And yet, the country's largest private sector employer is not seeing any action from Government to help.
"The Government urgently needs to reduce the business rates burdens and create a tax system fit for the 21st century that more fairly distributes taxes right across the economy."
Springboard marketing and insights director, Diane Wehrle, said: "A drop in footfall of 1.7% in September - an even slightly greater rate of footfall decline than the 1.6% decline in August - provides further evidence of the current challenges facing bricks and mortar retail.
"However, whilst it would be easy to put this down to the shift to online spending, the story is not nearly as cut and dried.
"With the growth in non-food online sales in September of +5.4% being the lowest since January and just half what it was in September 2017, combined with the highest level consumer credit for five years, a recent increase in inflation, all indicators point to the fact that footfall is simply reflecting the underlying constraints on consumer spend generally."
AIM-listed cream cake retailer Cake Box has recorded a 40% jump in revenues to £8.3m for the six months ended 30 September 2018.
The egg-free retailer, which launched its IPO in the summer, said profits are now expected to beat expectations after "strong trading" which included the opening of 15 new franchise stores.
Sukh Chamdal, CEO, said: "We have delivered a strong trading performance for the period, during which we successfully completed our IPO in June. We continue to build momentum with a record number of new franchise store openings, and an increase in the average sales per store.
"We look forward to the second half of the financial year with confidence, with a strong pipeline of new franchise stores putting us on track to match the number of stores opened during the first half."
The FTSE 100 has continued to drop this morning, if only slightly, as it moved down 0.1% to 6,991pts as investors wait for the latest Brexit updates.
Greencore has risen 3.2% to 214.1p after announcing its US sale and the bumper dividend in store for shareholders.
Other risers this morning include Paypoint (PAY), up 3.1% to 899p, Kerry Group (KYGA), up 2.9% to 90.6p and Imperial Brands (IMB), up 1.7% to 2,559p.
Fallers this morning include McColls (MCLS), down 2.6% to 123.2p, Fevertree Drinks (FEVR), down 2.2% to 2,893p and Marks and Spencer, down 1.3% to 294.5p.
This week in the city
The markets will be hoping for significant uplift this week, after the FTSE 100 tanked to its lowest figure in more than six months, as a Wall Street sell-off hit the index.
The week ahead is typically quiet for this time of the year, with perhaps the most interesting results coming from Marmite-maker Unilever (ULVR) on Thursday.
A week since its very public u-turn on plans to move its headquarters to Rotterdam, Unilever will be revealing its third quarter results.
Questions were raised about the futures of CEO Paul Polman and chairman Marijn Dekkers after the plan was ditched, putting more pressure on the leadership to maintain steady growth.
Thursday will also see takeaway giant Dominos Pizza Group post its third quarter figures.
There are a number of announcements from overseas companies this week, with consumer health group Johnson and Johnson announcing its third quarter figures tomorrow.
Tuesday will also see an update from French supermarket chain Casino Guichard Perrachon, which will be hoping for improvement.
Tesco buying partner Carrefour will announce its sales for the third quarter on Wednesday, as will French food group Danone.
Thursday will see a number of announcements, with Jameson's owner Pernod Ricard announcing its first quarter results.
There will also be third quarter updates from consumer giant Nestle and Marlboro-maker Philip Morris International.
On Friday, Proctor and Gamble and Remy Cointreau will both provide interim result updates.