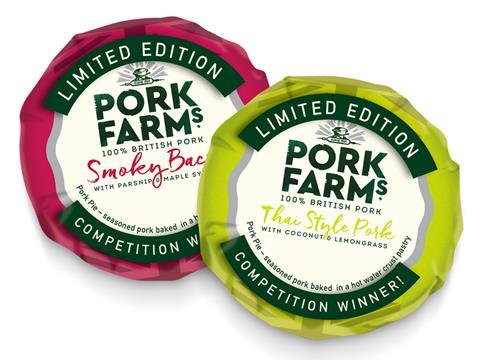 Top story
LDC is prepping chilled savoury pastries supplier Addo Food Group for a sale after more than three years of ownership, The Grocer has learned.
The private equity firm, which acquired the business for more than £100m from Vision Capital in April 2017, has hired corporate finance advisor Spayne Lindsay to find a buyer. The process is in the very early stages.
Addo could command a price tag of £200m-plus after strong growth under LDC's ownership, with EBITDA having doubled to around £30m, according to City sources.
Private equity firms such as Karro and Young's owner Capvest, former Quorn owner Exponent and Sun European Partners, which has food manufacturer Freshpak in its portfolio, were the most likely buyers, sources added.
Nottingham-headquartered Addo, which was formerly known as Pork Farms when Vision bought the business from Northern Foods in 2007, produces more than 250 million packs of branded and private label sausage rolls, pork pies, scotch eggs and quiches every year.
Read the full story at thegrocer.co.uk/finance.
Morning update
Also featured in this week's issue of The Grocer is the £9m funding round at non-alcoholic spirits brand Lyre's.
The business plans to use the seed capital to fuel NPD, expand into new markets and maintain rapid growth in its core range.
Launched in Australia in July 2019, Lyre's has created a 13-strong range reinterpreting classic spirits, including American Malt, Italian Orange, Dry London, Italian Spritz, Amaretti and Coffee Originale, with more flavours slated for release.
The brand is available in more than 30 markets worldwide and is expanding into the RTD category in 2021. Read more here.
The latest GFK Consumer Confidence index improved slightly last month, moving two points from -27 to -25.
It represented an improvement from the low of -36 recorded in June.
However, the survey was conducted at the start of September, before the latest worries about rising cases of Covid-19 and possible further lockdowns.
GFK's client strategy director Joe Staton said: "Consumers are as jittery as stock markets right now and as the UK government puts the brakes back on… only an unbridled optimist will bet on confidence climbing further."
The FTSE 100 nudged up 0.2% this morning to 5,833.54pts.
PZ Cussons was among the early risers, climbing 11.4% to 239p and losses earlier this week following its latest financial performance.
Pets at Home investors took some profit this morning as the retailer fell 5.7% to 367.8p after yesterday's huge surge (see below).
Unilever, Reckitt Benckiser and Hilton Food Group were also among those to gain this morning, up 1.3% to 4,787p, 0.6% to 7,484p and 2.9% to 1,198 respectively.
Naked Wines, SSP Group and WH Smith were also among this morning's losers, falling 3.4% to 423.7p, 2.4% to 190.1p and 1.1% to 962p respectively.
Yesterday in the City
The FTSE 100 ended the day in the red once again, falling 1.2% to 5,827.26pts, despite the extra economic help announced by the Chancellor.
Pets at Home rocketed up by 27.5% to 389p after a bullish trading update where it had the confidence to upgrade full-year profit forecasts.
McColl's Retail Group was also among the day's risers, up 4.6% to 22.9p, along with Premier Foods, up 3.9% to 90.7p, and AG Barr, up another 2.2% to 444.5p.
Marston's was back among the fallers yesterday, down 4.9% to 42.8p, as was beleaguered SSP Group, down 3.9% to 195.1p, with Greggs also down 3.2% to 1,128p.