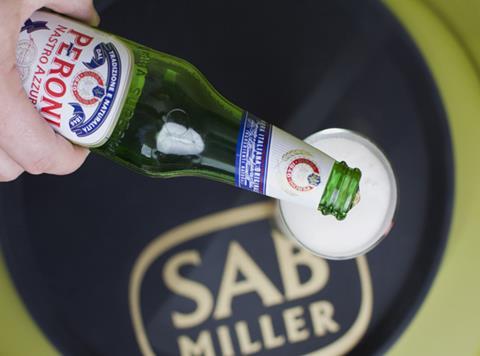 Top story
SABMiller (SAB) has announced this morning it has agreed a £44 per share cash deal with AB InBev (ABI) worth around £70bn.
After previously rejected AB InBev's public £42.15 approach as "seriously undervaluing" the company, AB InBev has upped its offer to a lever the SAB board will recommend to shareholders. AB InBev was reported to have made a renewed £43.50 per share bid yesterday.
The £44 per share deal also includes a partial share alternative, which is available for approximately 41% of the SABMiller shares.
The all-cash offer represents a premium of approximately 50% to SABMiller's closing share price of GBP 29.34 on 14 September 2015 – the last business day prior to renewed speculation of an approach from AB InBev.
AB InBev has also agreed to pay a break fee of US$3bn to SABMiller in the event that the transaction fails to close as a result of the failure to obtain regulatory clearances or the approval of AB InBev shareholders.
SAB shares have jumped 8.5% to 3,930p on the news this morning.
Morning update
UK retail sales increased 2.6% on a like-for-like basis from September 2014, when they had decreased 2.1% on the preceding year, according to the latest BRC-KPMG Retail Sales Monitor. On a total basis, sales were up 3.9%, against a 0.8% fall in September 2014. This is the fastest growth since January 2014, excluding Easter distortions.
The inclusion of the Bank Holiday into the September period positively distorted the figures of the back-to-school-sensitive categories, particularly the fashion and home categories. September's figures were also flattered by a soft comparable period last year
Total Food sales grew 0.2% over the 3 months to September, in line with their twelve-month average, which reported its best performance since July 2014.
Elsewhere, a record 4,000 food and drink businesses are exporting almost £1bn of British produce across the world, according to farming minister George Eustice.
In 2013, the government announced a new ambition to directly help 1,000 UK food and drink businesses sell their produce abroad by October 2015, generating business wins of £500m. Two years later those targets have been "smashed", with companies exporting £985m of business. New government figures show exports of milk and cream from the UK to Germany are up 94% and to Italy 302%.
Despite the boost to SABMiller's share price, the FTSE is down 0.8% to 6,322.9pts this morning. The growth in retail sales according to the BRC hasn't helped the supermarkets this morning - with Tesco down 3.2% so far today to 195.4p and Sainsbury's sliding 2.5% to 264.4p.
Yesterday in the City
The FTSE 100 fell 0.7% yesterday to close at 6,371.2pts – its first daily fall for nine days.
SABMiller (SAB) shares slid 1.3% to close at 3,621.5p as news emerged of a new £43.50 per share bid from AB InBev (ABI) being rejected by the SAB board.
Tesco's announcement that it was to replace its 'price promise' will a till-based 'brand guarentee' didn't help the supermarkets' trading momentum yesterday.
Tesco (TSCO) dipped 1.4% to 201.9p, while Sainsbury's (SBRY) fell 1.6% to 271.2p, Morrisons (MRW) dropped 1.1% to 179p and Ocado (OCDO) fell 2.3% to 346.1p.
There was some better news for a number of fmcg suppliers – with Coca-Cola HBC (CCH) rising 1.8% to 1,499p and Unilever (ULVR) climbing 1.1% to 2,917p. Associated British Foods (ABF) was also on the rise, climbing 1.1% to 3,379p