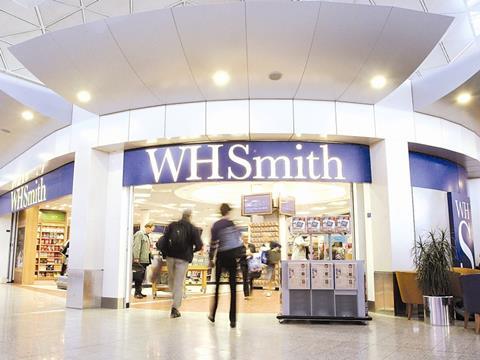 Top story
WH Smith (SMWH) has agreed a US$198m deal to buy international travel retailer InMotion to double the size of its growing travel business.
InMotion is the largest airport-based digital accessories retailer in North America, with a concession portfolio of 114 stores across 43 airports in the US and a presence in nine of the top ten and 22 of the top 25 busiest US airports.
The deal will effectively double to size of WH Smith's international travel business and will provide a "platform from which to expand WH Smith's international travel business into the world's largest travel retail market".
In the calendar year to date, InMotion has delivered like-for-like sales growth of 13%, following like-for-like growth of 12% in calendar year 2017.
For the financial year ending 31 December 2018, InMotion is expected to deliver sales of approximately US$166 million (£130m), and EBITDA of approximately US$23m (£18m).
InMotion will continue to operate as a standalone business as part of WH Smith's international travel business and continue to be led by its existing management team.
WH Smith said it will benefit from InMotion's existing infrastructure and business development capabilities, to support the launch and growth of WH Smith's airport format in North America.
Additionally, the deal will provide opportunities to grow the digital accessories format in key markets outside of North America where WH Smith is present.
To fund the deal WH Smith has raised £200m from a new four year loan with its existing banks of Barclays, BNP Paribas, HSBC and Santader and has extended its £140m revolving credit facility for another year to December 2023.
Stephen Clarke, group CEO, commented: "InMotion is a highly successful pure play travel retailer in the world's largest travel retail market. The acquisition of InMotion is an exciting value creation opportunity for the WH Smith Group and marks a major step in our international travel retail growth strategy. It doubles the size of our international travel business and provides us with attractive growth opportunities.
"The travel retail market in North America for digital accessories offers significant growth potential. As the market leader, recognised for its best-in-class customer service, InMotion is well positioned to take advantage of that potential."
The deal is expected to complete before the end of calendar year 2018.
WH Smith added that it has made a "good" start to its new financial year. After the first 8 weeks, travel total revenue is up 10% with like-for-like revenue up 4%. High street total revenue is down 1% and like-for-like revenue is down 2%. Total revenue for the Group is up 5% with like-for-like sales up 1%.
Morning update
Ocado (OCDO) and US grocery giant Kroger have solidified their partnership with the signing of service and operational terms, the pair have announced this morning.
Under the terms of the agreement, Kroger is expected to order 20 CFCs over the first three years of the deal, and order the first three CFCs by the end of 2018.
The terms and fee structure are similar to those for other transactions to-date combining up-front fees and ongoing capacity fees.
The target is for Kroger's CFCs to go live within approximately two years of each order being placed.
In order to expedite the opening of CFCs in the US, the first CFCs ordered in 2018 will have funding requirements similar to earlier deals.
The two parties remain committed to exploring value-neutral alternative structures that would result in a lower capital commitment per CFC by Ocado. Ocado said discussion on these revised payments terms has now started and a further agreement is expected to be announced in due course.
Ocado expects the earnings impact of the agreement to be neutral in 2018. The expected peak cumulative net outflow for Ocado of these initial three CFCs is £90m before alternative funding is agreed for future CFCs.
Luke Jensen, CEO of Ocado Solutions, said: "We are delighted to have signed this services agreement with Kroger which sets out the key parameters for our working relationship going forward. The Kroger and Ocado teams have been working hard for some time to prepare for the opening of the first CFCs in the United States.
"We are very excited at the prospect of helping Kroger bring new services and value to its customers and transform the food retail market in the US".
Alex Tosolini, Kroger's Senior Vice President of Business Development, said: "This is a significant step toward both solidifying our partnership with Ocado and redefining the Kroger customer experience. The alliance will bring to the U.S. Ocado's unparalleled innovation and technologies. This is exciting news and will help accelerate our vision to serve America through food inspiration and uplift."
FTSE 100 consumer goods giant Reckitt Benckiser (RB) saw a 2% drop in headline revenues in the third quarter as weak sales in infant nutrition and the impact of currencies hit its top-line results.
Reported third quarter sales fell 2% to £3,12bn, which was a marked turnaround from 13% growth in the first half as currencies bit in the third quarter.
Like for like growth in the quarter was 2% - which is in-line with the first half - though growth was negatively impacted by 2% (£70m) from a temporary manufacturing disruption at its European infant nutrition plant.
Infant nutrition saw segment delivered a 6% LFL decline in Q3 as the disruption impacted the supply of products to a number of our markets outside North America, resulting in approximately £70m lower revenue than expected in the quarter.
RB said the disruption was resolved and supply restored before the end of the quarter, though it does expect some residual impact in Q4 and into 2019.
This was mitigated by its over the counter health segment delivering LFL growth of 6% in the quarter and a year-to-date LFL performance of 6% thanks to broad-based growth across its major brands.
Its home and hygiene segment delivered 4% like for like growth to £1.23bn, comprising 2% volume and 2% price/mix growth. Pricing in developed markets remains "tough", although RB saw some slight signs of improvement during the quarter.
CEO Rakesh Kapoor commented: "Q3 was another quarter of progress, with continued momentum and growth under our new RB 2.0 organisational structure.
"Our base Health and Hygiene Home businesses each delivered 4% LFL growth in the quarter, against a backdrop of mixed market conditions, demonstrating the strength of our brands, innovation success and early signs of RB 2.0 benefits.
"We have sufficient momentum and progress in our business to absorb this temporary manufacturing disruption. We therefore reiterate our 2018 target of +14-15% total net revenue growth at constant rates."
On the markets this morning, the FTSE 100 has retained yesterday's gains remaining at 7,030.7pts.
WH Smith has jumped 7% on this morning's news to 1,855p and Ocado is up 5% to 842.4p.
Reckitt, however, has slumped 4.6% to 6,305p.
Other risers include McBride (MCB), up 4.1% to 130.2p, Hilton Food Group (HFG), up 2% to 920p, B&M European Value Retail, up 1.7% to 410p and M&S (MKS), up 1.7% to 300.3p.
Fallers so far include Just Eat (JE), down 1,7% to 584.4p and Glanbia (GLB), down 1.6% to €15.19.
Finally, due to a technical error, yesterday's finance newsletter was not sent out. Apologies for this issue, please see yesterday's City Snapshot here and Media Bites here.
Yesterday in the City
The FTSE 100 jumped back 1.3% to end the day at 7,026.3pts as European stocks recovered despite another sharp share price downturn in the US.
UK-focussed retail stocks performed well yesterday, with risers included Marks & Spencer (MKS), up 2.6% to 295.2p, Ocado (OCDO), up 2.4% to 800.8p, WH Smith (SMWH), up 2.1% to 1,734p, Greggs (GRG), up 2% to 1,159p, Sainsbury's (SBRY), up 1.8% to 310.3p and B&M European Value Retail (BME), up 1.7% to 403p.
Big FTSE 100 international groups had a tougher day, with British American Tobacco (BATS) down 1.9% to 3,549p, Reckitt Benckiser (RB) down 0.9% to 6,611p and Diageo (DGE) down 0.7% to 2,677p.
Other risers included Nichols (NICL), up 4.2% to 1,292.5p, McColl's (MCLS), up 4.1% to 128p, DS Smith (SMDS), up 3.3% to 378.2p and Glanbia (GLB), up 2.9% to €15.43.
Fallers included McBride (MCB), down 5.3% to 125p, Total Produce (TOT), down 1.5% to 167.45p, Premier Foods (PFD), down 1.3% to 37.5p and Hilton Food Group (HFG), down 1.3% to 902p.