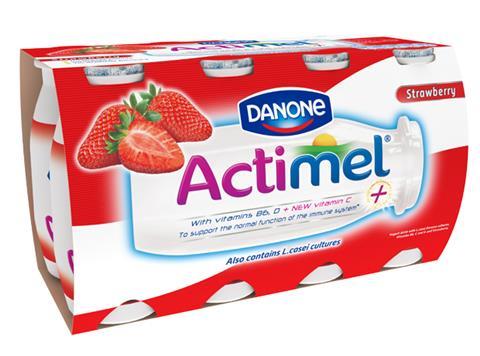 Danone (BN) has agreed to buy US food group WhiteWave Foods for US$12.5bn (£9.7bn) in cash deal worth $56.25 a share.
It represents a premium of approximately 24% over WhiteWave's 30-day average closing trading price ($45.43), with the deal expected to close by the end of the year, subject to various approvals.
WhiteWave, which makes branded plant-based foods and drinks, recorded sales of $4bn (£3.1bn) in 2015 – generating double digit like-for-like growth since it listed in New York 2012.
The business specialises in premium organic dairy, non-GMO, plant-based alternatives to milk and yogurt, fresh foods and coffee creamers.
It is the largest deal Danone has been involved in for a decade and is expected to deliver cost and revenue synergies of $300m (£232.2m) by 2020.
Danone, which makes Actimel and Activia yoghurt, as well as selling Evian water and baby formula, has struggled with the slowdown emerging markets in recent years, with the acquisition limiting its exposure to the likes of Russia and Brazil and growing its presence in the US. The transaction almost doubles the size of the French dairy's US business at a stroke to account for 22% of revenues.
CEO Emmanuel Faber has been on a mission since taking charge of Danone in late 2014 to return the group to sustainable top and bottom line growth
"This unique combination positions us better to address tomorrow's consumer trends and represents a great opportunity to step change the ambition of our plan for an alimentation revolution and to accelerate our path towards strong sustainable and profitable growth by 2020," he said.
"It will allow us to enhance Danone's growth profile and reinforce our resilience through a broader platform in North America. We are convinced that combining with WhiteWave will create significant value for all of our stakeholders."
WhiteWave CEO Gregg Engles added: "We believe this is a compelling transaction that delivers significant cash value to our shareholders. Danone is a unique company with distinctive capabilities that will enable WhiteWave to reach its next phase of growth."
Danone shares rose 2% to €64.50 in today's trading and leapt 19% to $56.28.