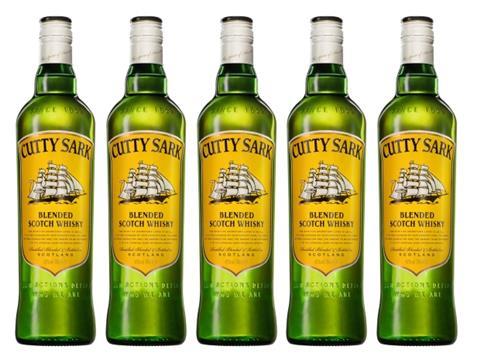 Edrington has sold its Cutty Sark whisky brand to French spirits group La Martiniquaise-Bardinet.
The deal, for an undisclosed sum, will see La Martiniquaise-Bardinet take full ownership of the brand when it completes within the month.
La Martiniquaise-Bardinet was "proud to take ownership of this powerful brand", said the group's president Jean-Pierre Cayard. "It will further strengthen our position in Europe and boost our presence in key markets such as the UK and Japan."
Edrington first put Cutty Sark up for sale – alongside fellow whisky brand Glenturret – in June this year, announcing the move with its results for the latest financial year.
Edrington CEO Ian Curle said at the time a sale would "enable greater focus and investment to support the long-term growth of the company's premium portfolio", which includes the likes of The Macallan, The Famous Grouse, Highland Park and Brugal Rum.
Focusing on its posher brands, which were "best equipped to compete powerfully", would "help Edrington capitalise on the long-term prospects from premium spirits", he added.
Edrington will continue to blend and bottle the drink for a transitionary period, which it is understood could last six months or more, after which La Martiniquaise-Bardinet intends to take over production of the drink.
No jobs have been lost as a result of the deal.
The sale of Glenturret, meanwhile, was underway and "progressing in line with expectations", added an Edrington spokeswoman.