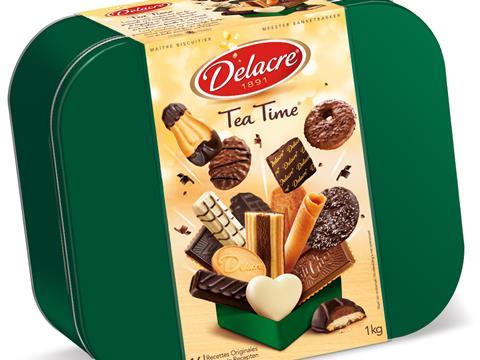 Ferrero hopes to finalise its acquisition of Belgian luxury biscuits brand Delacre from United Biscuits by the middle of December.
The Italian chocolate manufacturer confirmed in a statement that it had made an offer to buy Delacre and DeliChoc, which is also available in the UK, as reported by The Grocer in July.
The transaction, for an undisclosed amount, is aimed at reducing the Ferrero Rocher and Kinder maker's reliance on chocolate and opening up the premium biscuits market, following in the footsteps of Cadbury owner Mondelez.
Ferrero, which snapped up Thorntons for £112m in June 2015, said completion of the deal was dependent on a competition investigation by regulators.
"A Ferrero-affiliated entity has made an offer to acquire the manufacturers of Delacre and Delichoc biscuits, NV Biscuits Delacre SA and United Biscuits Industries SAS, from United Biscuits," a Ferrero spokeswoman added.
"The relevant worker council consultations have been completed and the offer is now subject to a competition review in line with standard procedures and steps for a transaction of this nature. We are hopeful that the process will be completed by mid-December."
The sale by Pladis – formed in June by combining the global confectionery assets of UB owner Yildiz – was in line with the group's strategy to focus on growing core brands, including McVitie's and Godiva Chocolatier in key markets, notably North America, industry sources told The Grocer earlier this year.
Delacre, established in the 1870s and purchased by Delacre from the Campbell Soup Company in 1998 for £78m, generated revenues of €132.5m in the year to 31 December 2015, rising from €121.9m in 2014, and generated an annual profit of €2.6m vs a €1.4m loss in 2014.
Belgium accounted for €37.5m of sales, with the remaining €94.9m in the EU. The brand also supplies own-label goods to retailers such as M&S.
DeliChoc, which is part of the Delacre portfolio, was launched under the McVitie's brand in the UK in January 2015.