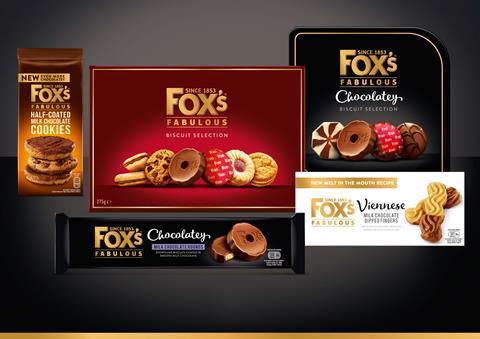 Ferrero has added to its growing biscuit empire with the £246m acquisition of Fox's from 2 Sisters Food Group.
The Nutella and Kinder maker will take over factories in Yorkshire and Lancashire producing biscuits sold under the Fox's brand, with 2 Sisters retaining a third factory in the Midlands manufacturing own-label lines for supermarkets.
Branded revenues at Fox's totalled £157m during the past 12 months but have been in decline in recent years, resulting in a lower market share in the competitive category. Retail sales value is down 4.5% this year at Fox's despite the branded side of the entire sweet biscuits sector climbing 5.1% to £1.3bn [Nielsen 52 w/e 7 September 2020].
The decline led to a lower valuation for Fox's, with the brand worth as much as £340m in 2016 when Burton's Biscuits approached 2 Sisters over a potential deal.
Ontario Teachers' Pension Plan-owned Burton's was one of three interested parties this time, along with France's Biscuit International, which was bought by US PE firm Platinum Equity in February, and Ferrero.
The Italian group, which is the world's third largest chocolate and confectionery business with annual revenues of more than €11bn, outbid its rivals to secure a deal with 2 Sisters.
It adds a number of UK household names to the Ferrero empire, including Rocky, Party Rings, Crunch Creams, Crinkle Creams and Viennese.
The group is now the second-biggest player in the worldwide sweet biscuits market after buying Belgian luxury biscuit maker Delacre in 2016 and Denmark's Kelsen Group last year.
2 Sisters acquired Fox's in 2011 as part of the takeover of Northern Foods. The Northern Foods deal also included the Goodfella's, Holland's Pies and Matthew Walker Christmas puddings brands. The sale of Fox's will help 2 Sisters focus on its core poultry business as well as pay down some of the more than £600m of net debt on its books.
The takeover of Fox's also gives Ferrero the fourth-biggest brand in the UK sweet biscuits category behind Pladis' McVitie's, Nestlé's Kit Kat and Mondelez's Cadbury