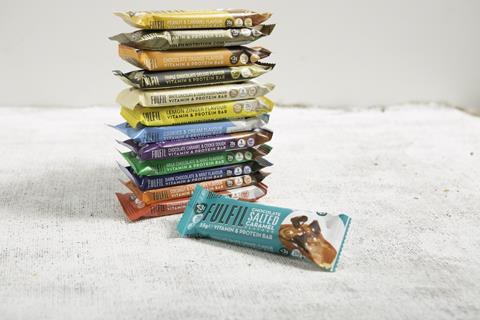 Irish confectionery bar startup Fulfil Nutrition is planning to expand further into the UK market after securing a "significant minority investment" from confectionery giant The Hershey Co.
Fulfil, whose range includes a 12-strong protein bar lineup, has been pursuing an "aggressive expansion strategy" since its launch in 2016, securing listings within all major UK retailers after entering the market two years ago.
"The people within Fulfil really believe in the potential of the brand to become a global player and Hershey's investment is a real endorsement of this belief," CEO Brian O'Sullivan told The Grocer.
"The investment is enough for us to feed our expansion plans and at the moment we are fully committed to the UK as our number one growth market.
"We are doing really well there, growing at an incredible rate, but we still have a way to go to become the number one snacking brand in the UK."
Fulfil is also currently available in Australia, New Zealand, The Netherlands, Belgium, Luxemburg, Switzerland, Germany, Iceland, Kuwait and UAE.
Given Hershey's presence in the US, the company did not exclude expansion in North America. However, this was not something that "should be taken on lightly", O'Sullivan added.
"It is very early days in our relationship with Hershey and I hope we'll explore every opportunity. If we did partner up in the US, it could be very big but it is not something we would jump into.
"We have to do our work to understand the market and ensure we have the best possible proposition there."
Fulfil also plans to take advantage of Hershey's investment and experience to develop new products, he said. Continuing to focus on delivering improved taste and texture remained a "definite priority of the business".
This week, the brand launched its latest protein bar flavour, Chocolate Brownie, to the market.
The three-year old healthy snacking company achieved €26m turnover in 2018. It currently expected to deliver 35% growth in 2019, particularly driven by sales in Ireland, with revenues forecast at €35m.
The latest cash boost – whose financial details were not disclosed – follows a minority investment by Allied Irish Banks in 2018. The bank took up a 25% stake in the business in a deal which, at the time, valued Fulfil at around £40m.
Hershey said the partnership would benefit both companies, creating opportunities "among new consumer segments and markets".
Chief growth officer Mary Beth West added: "As we continue to expand our snacking portfolio, our innovation agenda takes a balanced approach across investing in core brands and experimenting with new business models.
"This includes creating new platforms through R&D, strategic acquisitions and investments in businesses that are sitting at the cross section of new consumer snacking needs."
A City source told The Grocer the investment was a "reasonably obvious call" for Hershey as Fulfil was seeking to cross over into the mainstream confectionery segment by providing a tasty healthier alternative.
"Fulfil has got taste credentials and health credentials and that's where you see the sense for Hershey in investing into the business," the source said.
Furthermore, the move could signal some interest from Hershey to expand its presence into the European market since Fulfil's sales were predominantly achieved in Ireland and the UK.
On the same day, Hershey announced a further minority investment into US-based chocolate firm Blue Stripes.