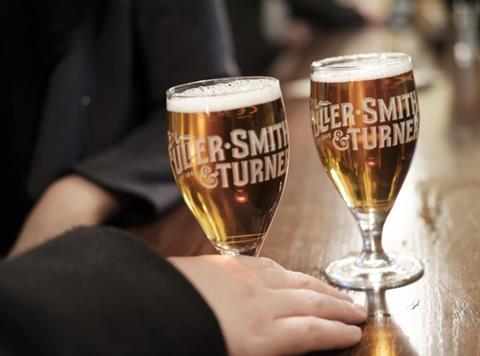 Fuller's has sold its entire beer portfolio to Asahi in a £250ml deal.
The deal will see Asahi Europe take control of Fuller's catalogue of brands, which includes the likes of London Pride, Frontier, the recently-acquired Dark Star and Cornish Orchards, as well as its distribution business. Fuller's will retain owner
Asahi Group CEO Akiyoshi Koji called Fuller's "one of the few brewers that show the same genuine commitment to brewing excellence and quality that we do".
"We strongly believe that the brands of the beer business, including London Pride, Frontier and Cornish Orchards among others, complement our premium portfolio in the UK market."
Fuller's will continue to operate as a pub company, with its chief executive Simon Emeny calling its pubs "the core of Fuller's and the driver of our future growth". The pubs division accounted for 87% of Fuller's operating profit for the 52 weeks to 30 March 2018.
A trading update issued with news of the sale shows like-for-like sales were up 4.7% in its managed pubs and hotels for the year to date, while beer volumes were "level".
Fuller's said it had formed a "strategic alliance" with Asahi to ensure access to the newly acquired brands for its pubs, with proceeds from the sale to be invested back into the business.
Between £55m and £69m would be returned to shareholders, it added.
"I am delighted that this transaction maintains Fuller's long association with the beer business and that we will continue to enjoy a strong relationship with Asahi as a key supplier," said Emeny.
News of the deal sent Fuller's shares surging 26.1% to 1,146.5p in early trading this morning.