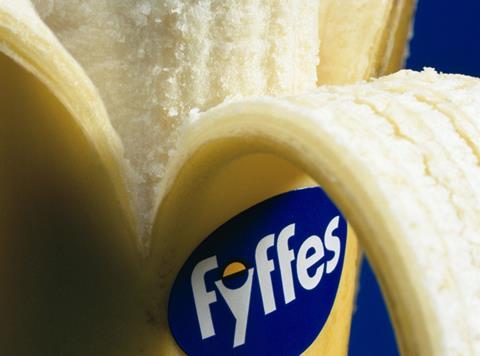 Fyffes and Chiquita have announced their proposed merger would generate an additional $20m in annualised cost savings in a bid to convince investors to back the deal.
Chiquita and Fyffes said in a joint statement today they had identified an additional $20m of synergies for a total of at least $60m in annualised pre-tax cost savings by the end of 2016.
The updated figures, the pair said, reflected additional benefits identified from European and Mediterranean shipping as well as IT efficiencies.
Chiquita and Fyffes believe approximately 50% of the $60m of synergies are achievable in the first year following the close of the merger, with the remaining synergies achieved by the end of the second year.
The updated figures come as investors wait to see if rival bidders for Chiquita – Brazilian juice company Cutrale Group and Brazilian investment firm Safra Group – return with an improved offer after the US group rejected their $625m bid.
Earnings rise
Meanwhile, Fyffes upgraded its full-year earnings forecast after seeing a 36.5% rise in adjusted EBITA during the first half of the year.
Adjusted EBITA climbed to €31.5m from €23.1m last year, driven mainly by positive exchange rates and strong melon sales.
The company said that, based on its first-half performance and continued positive trading conditions early in the second half, it was increasing its target-adjusted EBITA for the full year 2014 to €38m-€42m from €30m-€35m previously stated. This compares to €32.7m for the full year in 2013.
Total revenue, including the group's share of its joint ventures, was 1.3% higher year on year in the first half, amounting to €592.8m.
Commenting on the results, David McCann, chairman, said that Fyffes had "delivered a strong result in the first half of 2014".
He added: "Fyffes is pleased Chiquita recently rejected the unsolicited offer from the Cutrale Group and the Safra Group and reaffirmed its recommendation to its shareholders to vote to approve the definitive merger agreement between Fyffes and Chiquita… Fyffes and Chiquita remain committed to the transaction and are continuing to work together to complete the combination as expeditiously as possible."
The merger, which was initially agreed in March, was officially referred to the EU for approval earlier this month.
Fyffes shares rose by 3.6% in early trading today, but remain around 11% down since news of the rival bid emerged in mid-August.