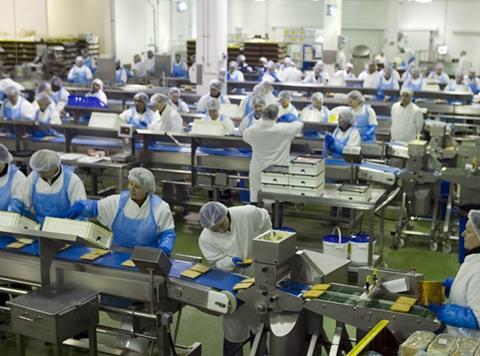 Top story
Greencore (GNC) has announced the US$747.5m (£594.3m) acquisition of US convenience food supplier Peacock to "transform" its business in North America.
Peacock manufactures convenience foods for large fmcg brands and has strong positions in frozen breakfast sandwiches, kids' chilled meal kits and salad kits. In the year to Septmeber 2016 it generated revenues of approximately $1bn and adjusted EBITDA of $72.1m.
Greencore said the deal "has the potential to transform Greencore's market and channel position in the US and create a strong platform for long term profitable growth".
The acquisition includes seven well-invested scale sites and will create a network that will have five times the footprint of Greencore's current US operations.
It added that the deal is expected to "significantly" enhance earnings and is targeting returns ahead of cost of capital from the first full year of ownership.
The acquisition will be fully underwritten with a rights issue to raise £439.4m and new debt dacilities of approximately £200m.
Greencore's CEO, Patrick Coveney said: "The acquisition of Peacock will transform our US business, strengthen our position in high growth categories, broaden our channel and customer exposure, and add significant scale to our operations.
"We believe Peacock's success is built on the same fundamental strategy and values that drive Greencore, making products that consumers love, building deep, longstanding relationships with customers, investing in high quality manufacturing capacity, food safety capability and, most importantly, people."
Tom Sampson, Peacock Foods CEO, added: "We have been particularly struck by the similarities in the way we run our business and our mutual long-term commitment to the US convenience food market. We are excited by the opportunity that we now have to leverage Greencore's expertise in innovation and fresh food manufacturing, thereby bringing a broader set of capabilities to our customers."
Greencore also posted its preliminary full-year results this morning, reporting a 10.6% rise in group revenue to £1.48bn which represents growth of 5.9% on a like-for-like basis.
Convenience foods revenues of £1.44bn were up 6.6% on a like-for-like basis.
Group EBITDA rose 13.9% to £138.4m, while group operating profit was 11.2% up to £102m and operating margin increased 10bps to 6.9%.
Coveney added: ""This has been another year of strong performance for Greencore, and these results should be seen as a clear indication that our strategy of focusing on the UK and US Convenience Foods markets is continuing to work well.
In the UK, we have delivered substantial like-for-like growth against the backdrop of a challenging retail market and an uncertain economic environment, and in the US we now have a business that is primed to deliver sustainable, profitable growth."
Greencore invested in growing capacity in the UK food to go market in the second half to support its strong growth pipeline, including the completion of phase two of its Northampton expansion project. A new sushi facility at Northampton also constructed and now being commissioned.
Greencore shares have leapt 6.8% to 311.7p on the news this morning.
Morning update
Agriculture and engineering group CARR's has reported its full-year results this morning, with sales down 4.9% to £314.9m but EBITDA up 6.6% to £16.5m.
In the year it sold off its flour-focussed food division to Whitworths, pre-tax profit was up 2.8% to £14.1m and operating profits were up 5.6% to £12.8m.
Agriculture operating profit (excluding contribution from JVs) was up 8.6% to £10.3m, driven by a strong performance in the USA feedblock business, while headline sales were down 4.4% to £284.8m.
Chairman Chris Holmes said: "In what has been a challenging year in the sectors in which we operate, I am pleased to report that the Group has delivered a solid result. The current financial year has started in line with our expectations and we will continue to review suitable acquisition opportunities whilst investing in our existing businesses both in the UK and overseas."
Elsewhere, DekelOil Public, the operator and 85.75% owner of the Ayenouan palm oil project in Côte d'Ivoire, has announced a series of capital investments focused on increasing the project's profitability and further de-risking its operations ahead of the peak harvesting season expected to run from March to June 2017.
The other major news this morning is news of the arrest of former BHS owner Dominic Chappell in relation to an unpaid tax bill – see this morning's Media Bites for more coverage.
After a Trump-inspired slide to end the week, the FTSE 100 has regained 1.1% this morning to climb back to 6,800.3pts.
Greencore aside, other risers include Majestic Wine (WINE), up 4.3% to 296.75p, Marks & Spencer (MKS), up 3.6% to 339.1p and Tesco (TSCO), up 2.9% to 204.2p.
Carr's Group is also up after its results announcement this morning, rising 2.5% to 142p.
The few fallers include Total Produce (TOT), down 1.3% to 145.7p and Science in Sport (SIS), down 0.8% to 61p.
This week in the City
News of Greencore's US acquisition has kicked the week off with a bang and there's plenty more news from the world's grocery and fmcg players lined up this week.
Firstly, fresh from snapping up UK crisp brand Tyrrells, US snacks group Amplify Snack Brands is scheduled to issue its third quarter trading update later today.
Next on Tuesday Premier Foods (PFD) will issue its crucial first half results after admitting to the market its sales growth was stemmed by a tough summer trading period. Also tomorrow are interm results from discounter B&M European Value Retail.
On Wednesday, Moy Park owner JBS will release its third quarter numbers.
Thursday brings third quarter results from Wal Mart (WMT) and crucially the third quarter UK sales figures for Asda as new CEO Sean Clarke battles to turn around its slump in like-for-like sales.
Thursday also brings third quarter numbers from newly combined Ahold Delhaize and Majestic Wine (WINE), fresh from a damaging profit warning, has interim results out on Thursday.
In terms of market data this week, tomorrow brings the latest Kantar Worldpanel and Nielsen grocery market share figures, while Thursday sees the publication of the latest ONS Retail Sales figures for October.