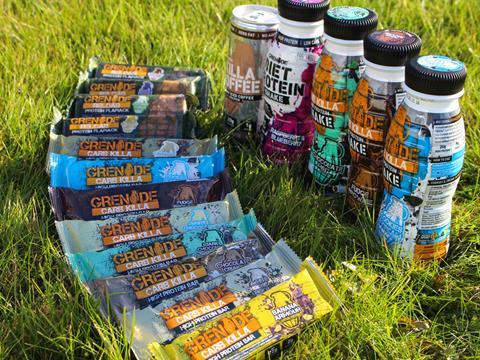 Grenade has set its sights on conquering the world with the backing of its new owner, US confectionery giant Mondelez International.
Founder Alan Barratt said this week the acquisition would super-charge the company's aspirations to become a "world-beating" sports nutrition brand on the international stage.
The £200m deal is the first in the UK for Mondelez since the controversial takeover of Cadbury in 2010 and comes as the US owner of Oreo and Milka aims to diversify into healthier snacking.
Grenade sells its high-protein, low-sugar bars, shakes and spreads in UK supermarkets and exports to more than 50 countries worldwide.
Group revenues soared 37.4% to £51.7m in 2019, according to the latest available accounts, with £13.2m coming from overseas markets (£9.9m in Europe and £3.3m in the rest of the world).
"Mondelez knows a huge amount about nurturing and creating world-beating brands," said Barratt, who founded Grenade with wife Juliet in 2009. "The experience and resources they'll be able to afford Grenade over the following years is huge. They're a perfect fit."
Mondelez will also be able to exploit opportunities to expand the brand's UK retail presence, where Grenade's Carb Killa bars outsell single Mars bars and hold a 44% market share in the protein category – three times more than the nearest competitor [IRI 52 w/e 24 January 2021].
"We don't envisage a huge shift to our UK retail strategy," added Barratt, who will retain a minority stake. "With that being said, there's always room for improvement and it's never tougher than at the top.
"As is our nature, we're always looking to improve – whether it's continual tweaks being made to products, behind the scenes, or elsewhere. We can learn a lot from Mondelez International and vice-versa."
Barratt said Grenade had weathered the coronavirus pandemic "surprisingly well", with a consumer shift towards online seeing its e-commerce sales now accounting for 25% of the business.
The deal represents a handsome payday for former PE owner Lion Capital, which acquired Grenade from Grovepoint Capital for £72m in 2017.
However, previous attempts to sell Grenade in 2019 – in an auction run by investment bank Harris Williams – ended in failure.City sources told The Grocer that potential trade buyers had not been willing to meet Lion's valuation expectations.
A dealmaker added this time round the transaction was struck following a bilateral discussion with Mondelez rather than a full competitive auction.
"Mondelez had a look at Grenade last time and turned it down," the source said. "Either the valuation expectation went up from Mondelez or came down from Lion."
The dealmaker added that the deal by Mondelez rival Ferrero for healthier snacking brand Eat Natural in December could have also acted as a trigger to spur the Cadbury owner back to the negotiating table.
"The protein bar market is extremely competitive," the source said. "If you are big in confectionery and consumers are turning away from traditional chocolate in favour of protein bars that taste the same but have less calories, then you want exposure to that.
"Mondelez will have thought 'this is a category we like, there is good growth there, it's in snacking and there is no equivalent in our portfolio'."