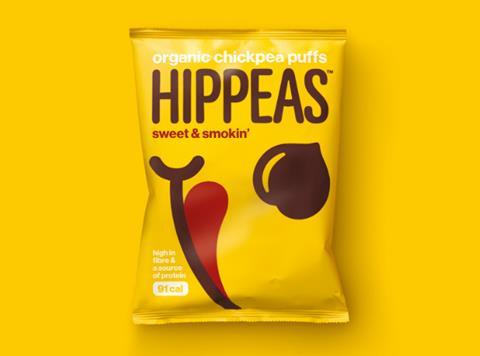 Chickpea snack maker Hippeas has secured $10m (£7.6m) from specialist US food and drink investment firm CAVU Venture Partners to accelerate its global expansion and turn the brand into a household name.
The brand was launched in the UK last year and is now available in 10,000 stockists, including Boots, Waitrose, Tesco and Sainsbury's.
It has benefitted from increasing demand for free-from savoury snacks and expects sales to hit £5m in the UK next year.
Hippeas forecast group revenues would triple in 2018 to $21m (£16m) as it continued its rapid growth.
"This is a big milestone for our company," CEO and co-founder Livio Bisterzo said.
"I'm thrilled to partner with CAVU given their strong track record in working with entrepreneurs to build iconic brands.
"Hippeas brings something truly innovative to snacking, which is why the velocity of our growth has been so incredible. Our partnership with CAVU will help us further accelerate that growth so that we become the leading global nutrient-dense snack brand."
The new growth capital follows an investment in Hippeas earlier this year from Hollywood actor Leonardo DiCaprio and Strand Equity Partners.
CAVU's co-founder and managing partner Brett Thomas will join the company's board of directors.
"HIPPEAS is redefining plant-based snacking with their tasty organic chickpea puffs and unique branding," he added.
"Their product reflects the desires of today's consumer – to eat delicious, convenient snacks that are healthy and have a positive social impact. We could not be more excited to partner with Livio and the rest of the talented team to make Hippeas a household name."
Hippeas is stocked by US retailers such as Starbucks, Whole Foods, Kroger and Albertsons.
The brand has headquarters in the UK and US. It was launched in the UK by Bisterzo in April 2016, with the US following in August.