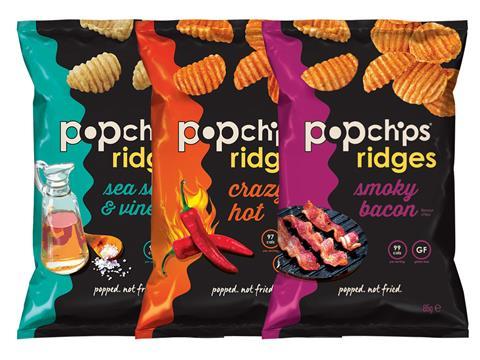 Popchips' European brand has been bought by Intersnack subsidiary KP Snacks.
KP has bought Popchips Ltd for an undisclosed sum from parent company Popchips Inc, which will continue to run the brand in North America and other international markets.
The deal comes two months after Intersnack purchased fellow UK manufacturer Tyrells from the Hershey Company.
Sales of the popped snacks, marketed as healthier than fried crisps, grew almost 30% to £10.5m as the UK arm delivered a £235k pre-tax profit.
Popchips launched in the UK in 2012, five years after it was initially created by Keith Belling and Patrick Turpin in the US.
"Will Bowler and the Popchips team have done a great job growing the brand and its distribution over the last few years," said Mark Thorpe, CEP of KP Snacks.
"The deal brings together the fastest growing snack brand in the UK market and the fastest growing scale snacks manufacturer, and we will now be working with Will, his team and the co-manufacturers of the product to ensure the successful integration into our business."
Will Bowler, Managing Director, Popchips Europe said: "We are really excited to be joining the KP Snacks portfolio and the Intersnack Group. With their deep expertise and support, KP Snacks will help us build on our strong momentum as we expand the Popchips brand further in the UK and throughout Europe."
Keith Belling, co-founder of Popchips, said: "The rapid growth and success of the Popchips brand in the UK, which we launched in 2012, has been nothing short of phenomenal.
"That success has created a unique opportunity for us to enter in this transaction with Intersnack Group, who will continue to elevate the brand to benefit snackers across Europe, as well as enable us to focus on Popchips' momentum in North America as well as opportunities in other international markets."