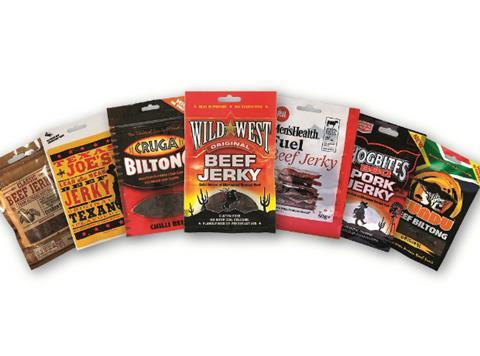 The Jerky Group has agreed to merge with biltong and meat snacks supplier Cruga to form a combined company with revenues of about £12m.
Meatsnacks Group would be the largest ambient beef snack manufacturer in Europe, claimed the companies, which have worked closely together for a number of years.
The group, which counts Asda, Co-op, Marks & Spencer, Morrisons, Sainsbury's, Tesco and Waitrose, as well as petrol forecourt operators, independents and pub chains, as customers, will supply more than ten million packs of meat snacks across 27 countries this year.
"The growth and demand for jerky and biltong in Europe has been significant in recent years, with the key driver being that consumers are increasingly aware both products are healthier to traditional carb-based snacks," Jerky Group MD James Newitt said.
"The Jerky Group and Cruga have collaborated for a decade in areas such as NPD, centralised packing, sales and distribution. The merger allows the new Meatsnacks Group to adopt a 'house of brands' strategy which will add value both at a B2B and B2C level."
Founded in 2000, The Jerky Group is behind the Wild West and Hogbites brands, which includes pork crackling and a new pork jerky, and has also been producing Texas Joe's of Dragons' Den fame and own-label for Marks & Spencer and Men's Health Magazine.
Cruga, established in 1998, brings the biltong brands of Cruga and Bundu, plus a number of private-label contracts with online sports and nutritional suppliers, to the stable.
The combined group now has manufacturing facilities of 60,000 sq ft and employs a workforce of more than 100 staff.