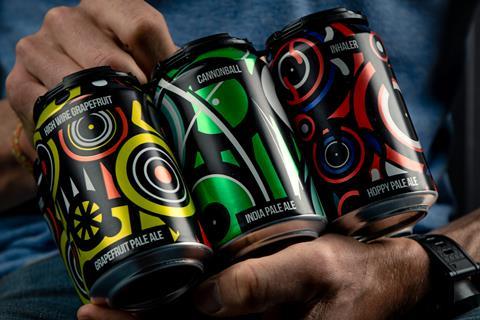 Australian brewing giant Lion has picked up craft brewery Magic Rock.
The deal, for an undisclosed sum, will see Lion take full ownership of the Huddersfield brand, whose brews include Dancing Bier lager, Common Grounds porter, Inhaler pale ale and Hat Trick bitter.
Magic Rock had "been one of the pioneers of the UK craft beer scene and has built a loyal following due to its relentless pursuit of authenticity and quality", said Lion global markets MD Matt Tapper. Lion saw "great opportunities to help put Magic Rock in the hands of more beer lovers", he added.
Magic Rock's MD Richard Burhouse will remain with the business, which now plans to take on more employees and boost production.
He told The Grocer: "We had three or four approaches which were very flattering but none seemed a good fit in the way Lion did."
Prior to the sale he had been "thinking more about the next step and how we expand without introducing a lot of risk in what's getting to be an increasingly congested and busy market", he added.
The news marks the second major craft acquisition by Lion in under a year since it snapped up London's Fourpure Brewing Co in July 2018.
Fourpure – which is currently expanding its Bermondsey site and raising its production capacity to 66,000hl per annum – has emerged as one of the UK's most prominent brewers over past years, with listings in Tesco, Asda, Waitrose and Ocado.
Magic Rock is due to make its debut in Tesco with the retailer's craft beer range update in April (alongside a host of new entrants such as North Brewing Co and Wild Card Brewery).
The retailer has listed its Saucery Session IPA, Luminance NEIPA, Cannonball IPA and Inhaler, giving Lion a significant presence in the UK's supermarkets.
Lion UK regional director Toby Knowles said: "There are much bigger players out there with much bigger infrastructure and chains of pubs. We're about investing in great businesses and not interfering with what they do best."
That the likes of Tesco were embracing more outré beers was "the natural progression of the market", he said. "Look at the range and variety - there's no way they would be putting those things on shelf if there wasn't the appetite."
Asked if Lion would continue on the acquisition trail, he said the business would "keep our eyes open to see what's happening".
Lion itself is a subsidiary of Japanese fmcg giant Kirin.