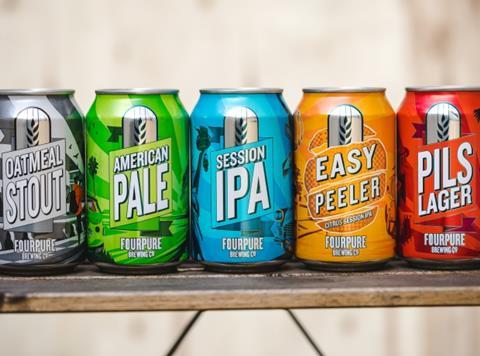 London craft brewer Fourpure has been snapped up by Aussie brewing giant Lion for an undisclosed sum.
The Bermondsey-based craft brand, which is stocked in Tesco and Waitrose, has sold 100% of its business in the deal, with Lion now poised to "considerably" invest into boosting Fourpure's capacity and distribution.
Fourpure had been seeking a buyer for roughly a year, Fourpure co-founder and CEO Dan Lowe told The Grocer. "We listened to people who came to us with proactive offers and looked at other areas of funding like private equity, and it was only really about three months ago that we happened to meet with Lion and explore that conversation."
Fourpure was "not putting numbers on things right now" when it came to exactly how much Lion would commit to spending on its brewing operations, said Lowe, but he revealed Lion planned to significantly increase Fourpure's staff numbers and potentially add more space.
There would be "a real focus on improving safety and the environment for our team, in quality and learning how some of the other craft brands in the Lion portfolio maximise quality".
Dan and Tom Lowe (also co-founder) will remain at the head of the business.
Fourpure will also now begin to take responsibility for distributing a selection of Lion's other craft beers, such as Little Creatures, in the UK. Lion itself is owned by Japanese brewing giant Kirin.
"Our guys will be representing a couple more brands and making the buying decisions easier. It's not our out-of-the-gate intention to be suddenly representing loads of brands, but this definitely makes sense," said Lowe.
However, he stressed while the deal may lead to certain "operational efficiencies", there would be no change to the cost price of Fourpure's brews. "Our price point is what we think is good for the beer now. We continue to operate from Bermondsey with the same people and the same materials, so there is not a view to taking our costs and making the products any cheaper."
He added: "We've normally added one supermarket chain per year, and that probably still feels about right. It's actually for us about growing and maintaining our service levels into the grocers and making sure they can rely on our supply and quality of product."
Fourpure had "done a suberb job in getting the business to where it is now and we love how innovative they've been in both beer styles and the way they have positioned the brand," said Lion global markets MD Matt Tapper.
"We're making real progress in making our craft beers like Little Creatures available in the UK and Europe and we see some great opportunities to work together to get these and Fourpure's brews in the hands of more beer lovers."
It follows just weeks after Heineken announced it had acquired a minority stake in Tottenham brewery Beavertown - a move which drew dire criticism from other prominent independent breweries such as Cloudwater, some of which have since announced they would not attend Beavertown's craft beer festival BeaverEx later this year.
Lowe said he was not worried about how critics would react to news of the sale. "My concern is on our customers and our beer quality," he said. "Am I worried? Not particularly. Haters will hate. We're not walking away."