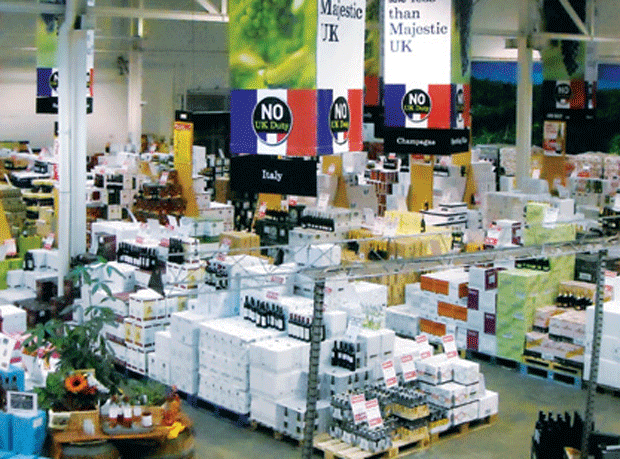 Majestic Wine has swooped for rival Naked Wines in a £70m deal which will rapidly accelerated the listed retailer's online plans.
Naked CEO Rowan Gormley has also been appointed as chief executive of the enlarged group, which will have revenues of about £360m, filling the hole left by longstanding former boss Steve Lewis, who was forced out three months ago following a poor Christmas.
Majestic will pay Gormley and his team £50m in cash, with the rest deferred in shares. New £85m debt facilities have been agreed with HSBC and Barclays to fund the deal.
The transaction presented the two companies – which will continue to operate as independent brands – with "significant" strategic opportunities thanks to Naked's online and e-commerce skills and Majestic's national store network, the company said in a statement to the London Stock Exchange.
"The acquisition of Naked Wines represents a transformational deal," Majestic chairman Phil Wrigley said. "The two businesses have significant strengths which are very complementary.
"Majestic's distribution skills, a nationwide UK store network and customer service orientated knowledgeable staff, are a perfect fit with Naked Wines' unique sourcing and selling model. This acquisition will significantly accelerate the planned development of Majestic's online capabilities whilst providing Naked Wines with a nationwide store network to allow a click & collect delivery option for its customers. In addition, this acquisition opens up attractive international markets, increasing our potential customer reach eightfold."
He added: "I am delighted that Rowan has agreed to be the new CEO for the enlarged Majestic. He has a fantastic track record as a successful businessman, innovator and entrepreneur in the wine industry and beyond. He has also assembled a deep pool of talent at Naked Wines with a similar culture to Majestic."
Rowan Gormley said: "The combination of Naked Wines and Majestic provides the very exciting opportunity to build a world class wine retailer, serving customers who are looking for inspiration that the supermarkets cannot provide. This is great news for the customers, staff and suppliers of both businesses and will ultimately create significant shareholder value."
Shares in Majestic opened 11.6% down (or 37.5p) on yesterday's closing price at 284p. It has recovered somewhat since, climbing back to 303.9p.
Majestic has suspended its final dividend for FY 2015 and the interim dividend for FY 2016 will also be withheld, with future dividends to be progressively re-instated by FY 2018, the group added.
Cavendish Corporate Finance advised the management and shareholders of Naked Wines. Partner Jonathan Buxton said: "With consumer trends in ecommerce continuing to evolve, most recently with the increase in mobile shopping and 'click and collect' services, we expect to see increased M&A activity as companies competing in this arena look for strategic acquisitions to expand and enhance their operations and market positioning."
Analysts at Investec welcomed the deal as "exactly the sort of more radical thinking" the investment firm was hoping for from Majestic's strategic review on how the business could be reinvigorated.
"We believe the announcement of this deal sends a clear message that Majestic is going to be run more aggressively and is likely to address issues much faster, such as being behind the curve in online and CRM marketing," Kate Calvert added.
"Ultimately, we believe this deal opens up and increases Majestic's longer term growth opportunities by giving it access to international growth in a modern, less capital intensive way."
Majestic added in a trading update that it expected to announce adjusted pre-tax profit of approximately £21m for the year ended 31 March 2015.