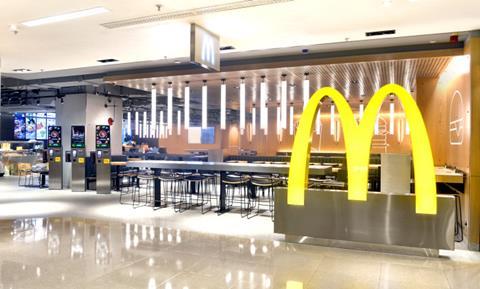 Global fast food giant McDonald's has announced it will cease all operations in Russia after 30 years in the country due to its invasion of Ukraine.
McDonald's announced it has initiated a process to sell its Russian business, having previously temporarily closed its restaurants and paused operations in the country on 8 March.
It said the "humanitarian crisis" caused by the war in Ukraine, and the "precipitating unpredictable operating environment", have led it to conclude that continued ownership of the business in Russia is "no longer tenable" or "consistent with McDonald's values".
Notably, as part of the process McDonald's will initiate a process of "de-arching" the estate, meaning the new owner of the stores will not be able to use the McDonald's name, logo, branding, and menu.
McDonald's said it will pursue a sale with a "local buyer" but will retain its trademarks in the country.
It will also seek to ensure the employees of McDonald's Russia continue to be paid until the close of any transaction and that employees have future employment with any potential buyer.
"We have a long history of establishing deep, local roots wherever the arches shine," said McDonald's president and CEO Chris Kempczinski. "We're exceptionally proud of the 62,000 employees who work in our restaurants, along with the hundreds of Russian suppliers who support our business, and our local franchisees.
"Their dedication and loyalty to McDonald's make today's announcement extremely difficult. However, we have a commitment to our global community and must remain steadfast in our values. And our commitment to our values means we can no longer keep the arches shining there."
As a result of its exit from Russia, the company expects to record a charge of approximately $1.2bn-$1.4bn to write off its net investment in the market and recognise significant foreign currency translation losses.
Meanwhile, McDonald's restaurants in Ukraine remain closed while the company continues to pay full salaries for its employees in the country and continues to support local relief efforts led by Ronald McDonald House Charities.
McDonald's famously opened its first Russian outlet in Moscow in 1990 as the Cold War de-escalated following the tearing down of the Berlin Wall in 1989.
Kempczinski wrote to staff today saying the opening of its first outlet in Russia had marked "one of our proudest and most exciting milestones" after negotiations had begun as far back as 1976.
"McDonald's and Russia have become so intertwined that it seems impossible to imagine one without the other. And yet, unfortunately, that is where we are today.
"It is impossible to ignore the humanitarian crisis caused by the war in Ukraine. And it is impossible to imagine the golden arches representing the same hope and promise that led us to enter the Russian market 32 years ago."
"It's impossible to predict what the future may hold, but I choose to end my message with the same spirit that brought McDonald's to Russia in the first place: hope.
"Thus, let us not end by saying goodbye. Instead, let us say as they do in Russian: До новой встречи. 'Until we meet again'."