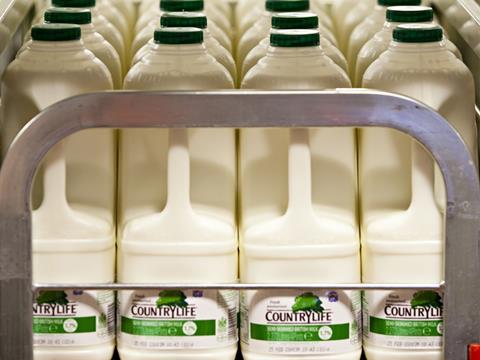 Dairy processors Medina and Freshways have emerged as the front-runners to take up a 'toll processing' agreement with Müller as part of its proposed purchase of Dairy Crest's liquid milk business.
A statement published today (10 August) by the Competition and Markets Authority (CMA), revealed that Müller UK & Ireland was in negotiations with the two processors over the effective sub-letting of capacity at Dairy Crest's Severnside plant.
The proposals to allow a third party to access capacity at Severnside are part of undertakings offered by Müller to placate the CMA's concerns the proposed £80m acquisition of the Dairy Crest business would damage competition.
CMA senior director of mergers Sheldon Mills said in June the transaction "could remove the rivalry between the two main suppliers of fresh milk to supermarkets" in the Southwest of England and South Wales, and could subsequently lead to higher prices.
This led to the threat of an in-depth 'phase two' investigation into the deal, and for Müller to offer to supply and process up to 100m litres of fresh milk a year to the successful third party candidate in order to facilitate the deal – representing a fifth of the Gloucestershire plant's total capacity.
The CMA said today that it was minded to accept Müller's concession, which it considered "appropriate to remedy its competition concerns".
It is now inviting third party views on the proposals by Medina – which owns the Watsons brand – and Freshways – the UK's largest independent processing dairy – with a deadline of 25 August.
The CMA has also extended the deadline to consider Müller's proposed undertakings to offer toll processing capacity at Severnside by an additional 40 days to 19 October. However, it may come to a decision on the proposals before this time.
Dairy Crest CEO Mark Allen, described today's developments as a "positive step forward", which would still allow it to complete the sale of the liquid milk division this year.
"We have always believed the sale of our dairies operations is good news for the whole UK dairy sector which is currently facing significant challenges arising from low dairy commodity returns," he added. "It will deliver economies of scale and cost efficiencies that will underpin investment and help the UK compete more successfully in global markets."