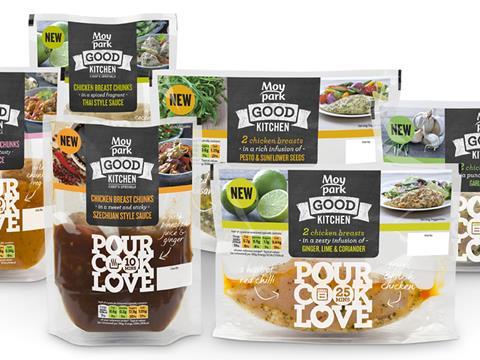 Brazilian food group Marfrig has decided against plans to float Northern Irish poultry producer Moy Park on the London Stock Exchange, preferring instead a sale to South American meat producer JBS.
JBS and Marfrig announced this morning a deal has been reached to buy 100% of Marfrig's stake in the Irish chicken firm for $1.5bn (£950k). The $1.5bn valuation is adjusted by working capital considerations and Moy Park's net debt, including its £300m of corporate bonds due in 2021.
The transaction will result in a cash payment of $1.19bn on completion of the deal – expected in the second half of this year, subject to regulatory approval from bodies including EU antitrust authorities.
JBS stated this morning: "This transaction represents an important step in JBS' strategy to grow its portfolio of prepared and convenient products with high value added. In addition, this acquisition increases the Company's geographic diversification, with an expansion of its operations in Europe in a relevant manner."
Marfrig said that the divestment of retail focussed Moy Park would give it a "stronger focus in food service" and "greater flexibility to pursue existing opportunities n this market, mainly in the United States and Asia".
Marfrig will use the proceeds to reduce leverage and pay down debt.
Moy Park had been tipped as one of the food industry's major UK float prospects for over a year. It was thought Marfrig was working on a plan to float the poultry supplier in late 2014 before it was pulled due to worsening market conditions.
In November Marfrig itself confirmed plans to float Moy Park during 2015 and re-stated its intention to pursue a listing again earlier this year subject to market conditions.
The Sunday Times just yesterday reported that Mafrig had brought in investment banks Goldman Sachs and Nomura as well as stockbroker Shore Capital to advise on an autumn share sale.
However, Moy Park, which supplies branded chicken products and own label ranges including Jamie Oliver meals, has struggled against the increasingly tough environment for UK food and drink suppliers in recent times.
It saw its pre-tax profits plunge by 46.8% in the first quarter of 2015 , falling from £9.4m to £5m against the backdrop of "a challenging market". Revenue in the 13 weeks ended 28 March climbed 4.2% from £338.8m to £353.2m.
Revenue in the UK and Ireland during the quarter climbed 7.1% to £279.6m on the back of what the company said was good volume growth across its fresh poultry product range.
For the full-year to 27 December 2014, Moy Park saw annual sales grow 2% to £1.42bn. Underlying EBITDA grew by 15.2% before the inclusion of corporate charges from parent company Marfrig. Profit before tax was down 3.3% to £10.9m due to the corporate charges and interest on the corporate bond issued in Q2 2014.
Moy Park CEO Janet McCollum commented: "Moy Park is a strong, growing and profitable company and has benefited greatly from being part of Marfrig Global Foods. We are very pleased and encouraged by this development which is great recognition for Moy Park.
"JBS is the second largest global food business and the largest poultry company in the world with a significant poultry presence outside of Europe. The Moy Park team, together with our dedicated farming partners, will continue to meet and exceed the needs of our customers and consumers throughout the UK, Ireland and mainland Europe providing innovative, top quality products underpinned by the highest standards of animal welfare."