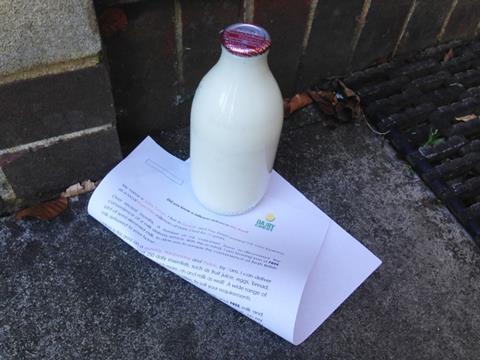 The proposed acquisition of Dairy Crest's liquid milk operation by Müller is on the verge of a further investigation by the Competition and Markets Authority (CMA) after it raised concerns over a "a substantial lessening of competition".
The CMA announced on Friday evening (12 June) that the £80m deal for Dairy Crest's loss-making dairies operation could be referred to a 'phase two' investigation unless "acceptable undertakings" were offered that it would not affect competition in supplying fresh milk to the mults in some parts of Great Britain.
It said the merger "may lead to higher prices in the supply of fresh milk to national multiples and, in turn, for consumers", adding that the "constraint provided by other dairy processors may not be sufficient to mitigate the competition concerns arising from the merger".
Despite the "significant challenges" currently faced by the UK dairy sector, CMA senior director of mergers Sheldon Mills said the deal presented concerns, "since it removes the rivalry between the two main suppliers of fresh milk to major grocery retailers in certain parts of Great Britain".
Müller and Dairy Crest now have five days from 12 June to "present their undertakings", said a CMA spokeswoman, while the Authority would then have a further five days to examine them.
If the proposals of the two parties do not satisfy the CMA's concerns on competition after this point, it can then instigate the in-depth 'phase two' investigation, which would require an additional 50 day consultation period under CMA rules.
Responding to the CMA's decision, Dairy Crest CEO Mark Allen reiterated his confidence that the deal would eventually be rubber stamped.
"We always anticipated that the sale would be referred to phase two," he said. "We remain convinced that this is a great deal for our customers and farmers which will help create a more sustainable UK dairy sector at a time when it faces significant challenges."
Müller Group CEO Ronald Kers also added that the development was expected, and he was looking forward to working with the CMA in order to "achieve a positive outcome".
"The rationale for this transaction is perhaps even stronger now given the mounting challenges facing the UK fresh milk sector and we remain convinced of the need to increase our competitiveness, ensuring that customers continue to receive a quality product at a low price, whilst continuing to pay farmers fairly," he said.
"We can achieve this by bringing Müller Wiseman Dairies and Dairy Crest's dairy operation together leading to better efficiencies. This will give us the means to unlock higher levels of investment, category insight and product development, which is badly needed in the fresh milk aisle," Kers added.
Analyst Clive Black of Shore Capital suggested any solution to the CMA's concerns could revolve around distribution agreements or co-packing arrangements in the south-west of Britain. "The issues seem modest, which should make for grounds for cautious optimism that a satisfactory outcome can be found either in the near-term or through a full phase two investigation," he said.
But if the deal did fail to go through in an orderly manner, he warned that the CMA could become embroiled "in a horrible political debacle", with the potential for a collapse of investment, harsh rationalisation and an implosion of innovation in the dairy sector.