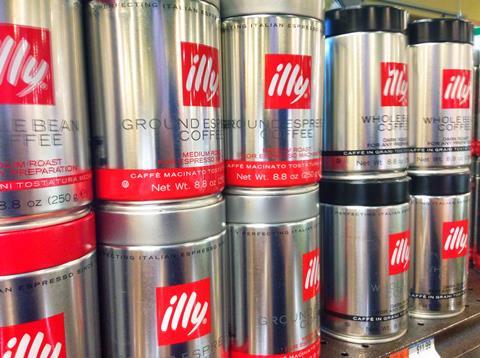 Italian coffee maker Illy has rebuffed interest following approaches from JAB holding and Nestle to buy the espresso specialist.
JAB and Nestlé have both made a number of acquisitions in the category in recent years, and are both looking to make the Illycaffe company its latest deal, Bloomberg News has reported.
The broadcaster reports that JAB Holdings is interested in buying all of the Trieste-based coffee company.
It said Nestle approached Illy a number of months ago but was told that the family was unwilling to sell at that moment, according to sources.
In the last 12 months Nestle has acquired a majority stake in high-end US coffee roaster and retailer Blue Bottle Coffee, Texas-based Chameleon Cold-Brew and in May purchased the global rights to market the Starbucks retail brand in a deal worth around £7.15bn.
JAB Holdings has similarly been involved in a number of major acquisitions, including its £1.5bn deal to buy Pret A Manger from Bridgepoint private equity group in May.
In 2016, JAB bought US coffee roaster Keurig Green Mountain in a mammoth $13.9bn deal, which has since merged with drinks group Dr Pepper Snapple.
In a statement, Illy chairman Andrea Illy said: "we have regular contacts with those companies, as with almost all other companies in the sector, to discuss non-competitive matters such as coffee and health, adaptation to climate change and market standards.
"Every hypothesis of corporate agreements has been deemed inappropriate."
The brand, known for its high-end espressos, was founded by Francesco Illy in 1933 and operates in around 140 countries. In 2016, Illy reported sales of around $539m, up 5.3% from the previous year.