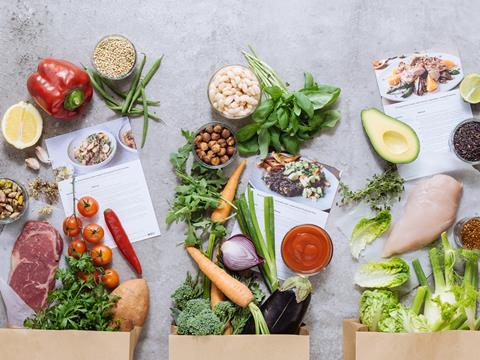 Nestlé has acquired a majority stake in recipe kit business Mindful Chef for an undisclosed sum to beef up its direct-to-consumer offering in the UK.
The Swiss-headquartered food group saw off interest from Waitrose, which was reportedly also in the running to buy the business. The deal follows hot on the heels of Nestlé's $950m acquisition of US meal delivery service Freshly last week.
Mindful Chef founders Giles Humphries, Myles Hopper and Robert Grieg-Gran, who started the business in 2015, will remain shareholders and continue to run the business as part of its management team.
Some existing shareholders will also retain their stake in the company, while private equity firm Piper, which invested £6m in Mindful Chef in 2018, will exit the business.
Mindful Chef has grown rapidly in the past five years, raising money from the crowd in the early days, with a number of funding rounds on Seedrs and Crowdcube, which saw the likes of former Wimbledon champion Andy Murray, Olympic cyclist Victoria Pendleton and Rugby World Cup winner Will Greenwood all invest.
Revenues are set to hit £50m this year after the Covid-19 crisis led to a huge spike in demand for the business' healthy recipe kits and frozen meals, according to the company.
The Grocer reported in May that Mindful Chef was seeking £25m in a new fundraising round as it engaged KPMG to sell a minority stake in the business. However, the process generated interest from a number of parties to buy the whole business, including Waitrose and private equity firms.
Nestlé CEO Stefano Agostini said: "I'm delighted to welcome the Mindful Chef team to Nestlé. Giles, Myles and Rob have built a brand with a clear purpose, offering consumers a trustworthy proposition that makes healthy eating easy through a direct-to-consumer subscription model.
"Nestlé and Mindful Chef share an ambition to increase the availability and convenience of healthy food while paying close attention to how ingredients are sourced and reducing food waste. It means this is an ideal partnership for both parties as Nestlé continues to transform its portfolio and Mindful Chef accelerates its growth plans."
Mindful Chef CEO Tim Lee added: "From the very beginning when Rob, Giles and Myles launched the company nearly five years ago, there was a very clear goal – to make healthy eating easy and delicious while being good for the planet. Being mindful is intrinsic to everything we do – it is, after all, a part of our name and one of our company values."
"We constantly challenge ourselves to be aware of our actions and the wider impact we have. The consumer response has been great and we expect to see sales of over £50m this year. Nestlé's experience and support gives us the opportunity to build on this success in the UK and beyond, making healthy eating easy for more consumers. We will continue to run the business with the same entrepreneurial, ethical and consumer-centric vision that has already brought us so much success."
Piper investment director Rory Gibbs said: "We have very much enjoyed working with Giles, Myles, Robert and the Mindful Chef team. Their passion and vision for Mindful Chef has been evident from the start and we've been delighted to help them bring their inspiring and delicious brand to so many new consumers. We wish them the very best for the future."
The deal is expected to close before the end of the year.
The acquisition further expands Nestlé's portfolio of direct-to-consumer businesses, with Mindful Chef joining coffee brands Nespresso and Nescafé Dolce Gusto, as well as newer additions in petcare such as Tails.com and Lily's Kitchen.