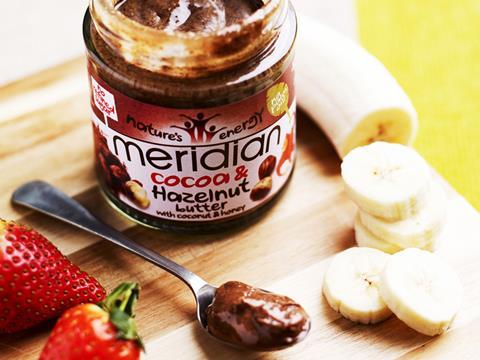 Hain Celestial is understood to be out of the running for nut butter brand Meridian - despite being widely tipped as the most likely buyer.

It comes as the food group itself is reportedly subject to a multi-billion dollar bid from Nestlé.

3V Natural Foods, which owns Meridian and premium soft drinks brand Rocks, hired corporate finance advisors Spayne Lindsay earlier this year with a brief to find a buyer for a minority stake in the group.

An information memorandum has been sent out to about 20 potential players, with a handful of trade and private equity firms set to make second round bids.

US food group Hain, which owns Ella's Kitchen while its UK arm Hain Daniels owns New Covent Garden soup and Sun-Pat, was strongly tipped as the favourite, but The Grocer understands it is not among those making a second round bid.

It is not yet known whether Meridian's owners will stick to the plan of selling a minority stake or if a full takeover will take place, but a deal is expected to be completed by the year end and value the business at £30m-£40m.

One dealmaking source suggested Meridian could also potentially complement the portfolio of Valeo Food Group, given it owns the UK's largest spread, Rowse Honey.

One possible block on Hain's involvement could have been that it has tasked US consultancy Centerview Partners to conduct a strategic review that could include a sale. Reports this week linked Nestlé among the potential suitors exploring an acquisition of either the whole group or parts of the businesses.
Hain, which makes organic and vegetarian food and has a strong presence in infant nutrition with Ella's Kitchen, has faced declining profits and in June posted results for the first time in more than a year after completing an internal accounting probe.
Analysts at SG estimated that on standard food acquisition multiples Hain, which has faced declining profits, would be valued at $5.6bn, "well within Nestlé's comfort zone".
The City broker added that Nestlé's biggest brands have been losing out to faster growing millennial brands, such as those owned by Hain, and that Nestlé needed to add to its portfolio to hit growth targets.
A bid could create competition concerns, but these would likely be solely focussed on the US prepared baby food market as it is the only sector with significant overlap.
A Bloomberg report added that other companies, including U.S. food makers and buyout firms, are also interested in a deal for Hain or parts of the business.
For Meridan, buyers would face few if any UK competition issues, but the deal could hit other complications.
"There is still complexity with the deal as there is also a drinks business in the group and there is also very high value expectations, with an EBITDA multiple in the mid-teens quite a lot for a business that is not making huge sums of money," one source noted.
Meridian, which accounts for most of 3V's sales, has grown rapidly in the past few years, with revenues up 30% to £21.6m in the year to 30 September 2016, slowing from a 76% jump in the previous 12 months, according to the latest accounts at Companies House. EBITDA at the brand leapt more than 37% to £1.5m.
Nut butters have become an increasingly popular with health-conscious shoppers seeking high protein foods with no added sugar.
But despite nut butters driving growth in the spreads category, it is an increasingly competitive space with markets leaders Whole Earth and Sun-Pat – and challenger brands such as Pip & Nut – putting pressure on Meridian.