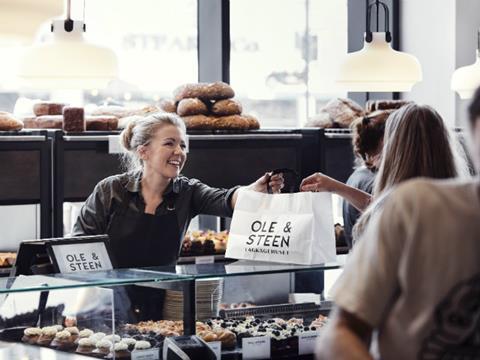 Danish bakery chain Ole & Steen, which opened its first international store in London at the end of 2016, has been acquired by a new private equity owner for an undisclosed sum.
Nordic Capital purchased a majority shareholding in Lagkagehuset from FSN Capital, as well as the stakes held by founders Ole Kristoffersen and Steen Skallebæk.
Lagkagehuset has stores throughout Denmark and a newly established presence in London, with two outlets trading under the Ole & Steen brand.
The original store in central London opened in December, followed by a second site in Richmond in May, with two more locations in Victoria and Canary Wharf to open this month.
The sites are Lagkagehuset's first outside of Denmark and mark the first phase of an international roll out, with more London stores planned.
Lagkagehuset operates at the premium end of the market, focusing on artisanal breads, cakes and pastries, as well as other food-to-go and hot drinks.
"Nordic Capital has a track record of investments in the food industry and sees great potential in supporting Lagkagehuset in its further expansion," says Michael Haaning, partner at NC Advisory, advisor to the Nordic Capital Funds.
"Lagkagehuset has a great customer-oriented concept that delivers high-quality products every day and is a preferred brand for consumers in Denmark. Nordic Capital will leverage its industry expertise within the retail sector to further develop the company internationally supporting Lagkagehuset's continued progress and expansion in partnership with the company's strong management team."
Thomas Broe-Andersen, partner at FSN Capital, added: "We started with Ole and Steen and two stores. Today, eight years later, there are 67 stores in Denmark and two in London. Lagkagehuset is above all a fantastic company with a unique culture and quality products. The two stores in London are the first expansion beyond Denmark's borders. There will be 200 employees in London before year end, so it has gone far beyond our expectations."
The Lagkagehuset chain in Denmark ranges from large traditional bakeries to smaller, urban food-to-go outlets. It employs 1,800 staff and reported revenues of DKK 665m (£78.5m), with growth of 20% in 2016.
The transaction is subject to approval by the regulatory authorities.
Nordic Capital private equity funds have invested in mid-market companies, primarily in the Nordic region, since 1989. Its most recent fund – Nordic Capital Fund VIII – has €3.5bn (£3.1bn) in committed capital, principally provided by international institutional investors such as pension funds.