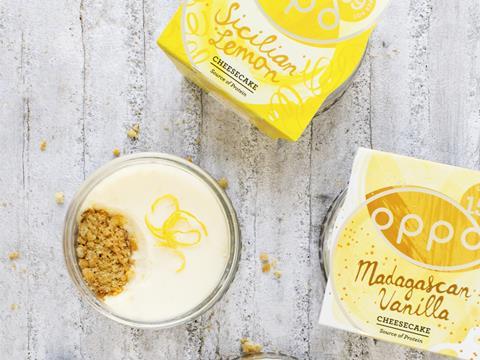 Crowdfunding investors in low-sugar ice cream brand Oppo have been offered a deal to cash out for a healthy profit by the investment firm of Swiss consumer billionaire Hans-Peter Wild.
HP Wild Holding AG, the family investment office of Capri Sun owner Wild, has made an offer to take a "significant" stake in the fast-growing brand to tap the booming market for healthier dessert options.
Wild proposes to buy out the crowdfunding shares of those who invested in Oppo over three separate investment rounds on the Seedrs crowdfunding platform at £6.15 per share.
The offer is not a wholesale takeover of Oppo as the founders will remain at the helm and continue to be majority shareholders.
The deal represents a 4.35x return for those who invested in 2015 at £1.41 per share. Others bought shares at £2.85 per share in 2016, and those that invested in its convertible campaign in 2017 get a return of 1.5x.
In total Oppo has raised a total of £1.1m on Seedrs over its three funding rounds.
"We're chuffed to be able to fulfil the original commitment made to Seedrs investors," co-founder Harry Thuillier told The Grocer. "HP Wild has a lot of experience, contacts, resources and infrastructure across the whole fmcg value chain and its involvement will help us scale faster than we had previously thought possible."
Wild's deal is subject to more than 90% of investors accepting.
Thomas Pfisterer, director for direct investments at HP Wild Holding, said it was ready to support Oppo with "significant resources to help them achieve their goals".
"We like the product, the mission to improve the way people eat, and the entrepreneurial spirit of the Oppo team," he said.
"However, such support from our side can only be justified in connection with a meaningful stake in the company. We're therefore prepared to purchase non-founder shares at a significant premium to purchase prices paid in very recent, similar buyback transactions in Oppo to ensure it is attractive for investors to sell."
Sales of low-calorie ice creams are booming according to The Grocer's Top Products research in this issue.
The top four low-cal ice cream brands – Halo Top, Breyers Delights, Oppo and Wheyhey – generated £21.2m of extra sales last year, representing almost half the £45m growth in the tubs category, according to The Grocer's 2018 Top Products survey.
The Grocer reported in August that Oppo had secured additional £500k of funding from investors and launched a share buyback after rapidly increasing sales led to a cash shortfall.