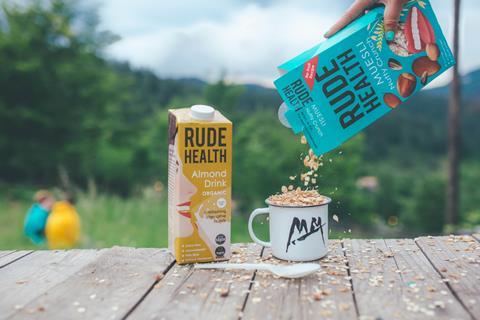 PepsiCo has invested in Rude Health in a deal valuing the free-from brand at more than £70m, it has emerged.
The soft drinks giant acquired a 10% stake in the alternative dairy, cereal and snack business for £7.2m, according to Companies House accounts for PepsiCo Holdings.
PepsiCo became the fourth largest shareholder in Rude Health after buying a slice of co-founders Nick and Camilla Barnard's majority shareholding.
A joint statement from the pair, who founded Rude Health in 2005 with just £4,000 in startup cash, said the investment – made in 2019 – was by PepsiCo venture capital arm Ventures Group, and insisted that it remained 100% independent.
"We remain in full control, with no commitment, requirement or expectation for a further transaction," they added.
"This investment is an acknowledgment of Rude Health's 15 years of sustainable growth, from a startup company with one muesli product, to a thriving and joyful food and dairy-free drinks brand offering a wide range of award-winning cereals, organic dairy-free drinks and snacks.
"We will, as always, taste test every new food and drink, champion each business decision and continue to lead our brilliant team, ensuring the Rude Health ethos continues to thrive."
PepsiCo Ventures is a global unit charged with investing in startups and challenger brands. The arm has sought to future-proof PepsiCo's portfolio to lessen its exposure to high fat, salt and sugar (HFSS) drinks and snacks.
It acquired KeVita, a US probiotic and kombucha drinks maker, in 2016 after first taking a minority stake, and plant-based superfood brand Health Warrior in 2018.
Rude Health started in 2005 with one muesli SKU before entering the alternative dairy drinks category. Today, it has a large range of products in multiple categories, including cereals, porridge and snacks, and is stocked in Waitrose, Sainsbury's Morrisons, Co-op, Ocado, Booths, Holland & Barrett, Whole Foods Market, As Nature Intended and Planet Organic.
Sales of Rude Health's dairy-free drinks have risen 120% in the past three years and are expected to hit £18m in the next 12 months, the business said. The milk alternatives market in the UK has boomed in the past few years, growing 14% in 2019 to £420m, according to The Grocer's annual Top Products Survey.