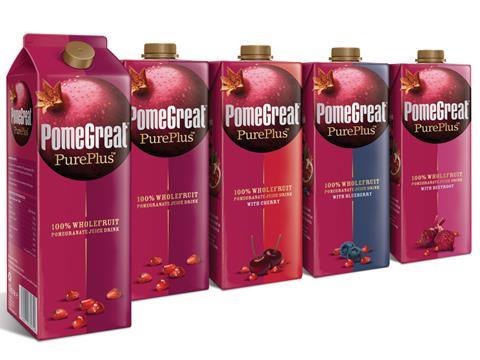 PomeGreat CEO Adam Pritchard has left the brand he founded in 2003 after it collapsed for the second time in two years.
The administration comes just a month after the Local Government Association (LGA) named Pomegreat as having more sugar per 100ml than a can of Coke in a stinging criticism of the soft drink industry. Pritchard said at the time the report would be a further blow for his "struggling small British business" which was trying to take on the "sugar-enriched" giants in the industry.
US rival Wonderful Brands, which makes POM Wonderful, last week announced it had purchased PomeGreat parent The Simply Great Drinks Company from joint administrators Gerald Krasner of Begbies Traynor and Stephen Conn of CG & Co, who were appointed on 15 May.
Wonderful, which will operate both brands together, attempted to buy PomeGreat in June 2013 when it went bust for the first time but was outbid by Pritchard, who paid £1m for the business after setting up Simply Great as the purchasing vehicle.

PomeGreat had sales of £13m at its 2006 peak, with its products being sold in all the major retailers. Heightened promotional activity in the supermarkets, reduced consumer demand due to health concerns over juices and smoothies, plus increased raw material costs and competition from POM Wonderful combined to push revenues down to below £5m.

Pritchard revamped the branding following the first administration, with Olympic cyclist Victoria Pendleton recruited as part of a health campaign and 'business guru' Colin Turner installed as chairman.
However, the new venture quickly got into trouble as an attempt to raise £250k on crowdfunding platform Crowdcube in June 2014 to expand its product range failed, Turner left the business in September and the revamp went – in Pritchard's words – "spectacularly" wrong costing the business millions of pounds in lost sales.
Wonderful Brands said Pomegreat was the leading pomegranate juice drink brand in the UK and served a complementary consumer to its own product. "We believe that by continuing to operate both brands together we can more effectively reach pomegranate juice lovers in the UK and beyond resulting in even broader category excitement," Wonderful Brands MD Dominic Engels added.