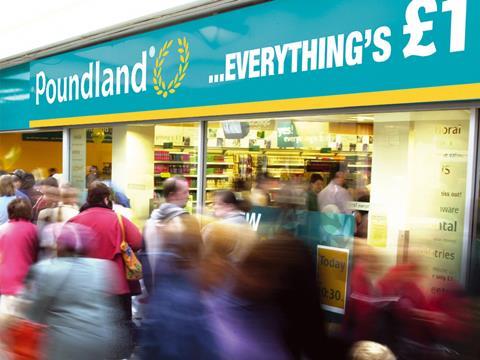 Discount chain Poundland is "bound to be put up for sale" in the new year as its South African owner Steinhoff battles to survive after being rocked by an accounting scandal, retail analysts suggested.
Shares in Steinhoff, which owns Poundland, budget clothing retailer Pep & Co and furniture stores Harveys and Bensons For Beds in the UK, collapsed last week when it admitted to accounting irregularities and its CEO Markus Jooste resigned.
The crisis sparked speculation that Steinhoff would sell off its UK assets to pay down its debt pile, creating uncertainty for Poundland, which was snapped up for £610m in 2016.
"Poundland is Steinhoff's most sellable UK asset and is bound to be put up for sale after Xmas," said retail analyst Nick Bubb.
Private equity would be the most likely home for the discounter if Steinhoff did decide to sell, Shore Capital analyst Clive Black added.
"Lots of PE firms will undoubtedly be dusting off their Poundland files with a potential sale opportunity," he said.
"However, it is not just the entry for PE but how would they exit. Will someone come in and look to float it again in three to five years or is there a trade deal to be done in the UK or further afield?"
Black added it was unlikely that rival discounters would have the appetite to make a tilt at Poundland.
"A few years ago you would have said the obvious buyer for Poundland would be TPG, which acquired rival Poundworld in 2015. The difficulty is that Poundworld is not trading wonderfully and the CEO has just departed.
"More broadly, it is hard to see others in the high street discount sector being in the position to acquire Poundland. It would likely be deal too far for B&M and whether Home Bargains would want more shops nearby or a fixed-price brand is subject to question. But you couldn't rule out that Home Bargains would run the slide rule over it."
A spokesman for Poundland shrugged off the crisis at the parent group, with the chain currently "firing on all cylinders" and back in like-for-like sales growth for the past two quarters. "Poundland is a profitable, cash-generating business with positive sales. That was true last Wednesday and true today."
Bubb said: "The reassuring puff that Poundland put out is perfectly understandable, as a) they need to reassure suppliers that they won't be affected by the Steinhoff shenanigans and b) they have to reassure potential private equity investors that the business is doing well."
Steinhoff share price recovered after the group brought in advisers to help on its restructuring, but has since slumped again as it admitted today (14 December) it's 2016 financial results will also need to be restated.