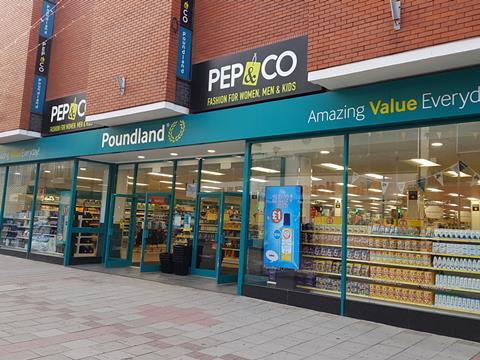 Top story
Troubled South African retail giant Steinhoff is reportedly readying a €4bn sale or float of Poundland owner Pepkor Europe.
The Times reports that Pepkor Europe has held meetings with legal advisors and will appoint bankers next month to advise on a dual track process to "untangle itself from its scandal-ridden parent company".
As well as UK discount retailer Poundland, Pepkor Europe houses the Pepkor discount chain in Europe and value fashion brand Pep & Co, which is now sold in the UK through Poundland outlets.
A possible sale is likely to attract "significant interest from private equity firms", the paper writes, noting that private equity bidders were circling Poundland two years ago when the scale of the Steinhoff financial scandal was first being revealed.
The South African group took Poundland private in 2016 at a value of £610m before it was engulfed in a €6.3bn accounting scandal a year later which it is still struggling to recover from.
Steinhoff Europe agreed a company voluntary arrangement (CVA) this week effectively giving control of the group to creditors owed more than €10bn.
New Steinhoff chief executive Louis Du Preez told investors this week the group will have to sell assets to survive, although Steinhoff declined to confirm whether Pepkor Europe was amongst the potential sales.
Morning update
This week's edition of The Grocer analyses Valeo Foods' persuit of Kettle, how restrucuturing costs led to a further £10m loss at Young's Seafood ahead of its sale to CapVest and the story that Scottish premium soup and shellfish producer The Hebridean Food Co is seeking crowdfunded cash to branch out into high-end ready meals.
Check out thegrocer.co.uk/finance later this morning for the details.
On the markets this morning, the FTSE 100 has failed to open at the start of the European trading on Friday, with the London Stock Exchange currently investigating a potential trading services issue.
Yesterday in the City
The FTSE slumped a further 1.1% back to 7,067pts – its lowest level since February – on the back of intensifying worries over global trade and growth.
A number of retailers were caught up in the sell-off as Asda announced mixed second quarter results and warned that Brexit was hitting consumer spending habits.
Sainsbury's (SBRY) dropped 4.5% to drop back to 177.1p and Morrisons (MRW) fell back 2.8% to 176.9p, while WH Smith (SMWH) fell 2.4% to 1,896p and B&M European Value Retail (BME) dropped 2.1% to 336.8p and convenience chain McColl's (MCLS) plunged 7.4% to 52.6p.
Other fallers yesterday included Bakkavor (BAKK), down 6.7% to 93.3p, Just Eat (JE), down 6% to 760.6p, DS Smith (SMDS), down 4% to 307.9p, Devro (DVO), down 3.4% to 187.4p, Science in Sport (SIS), which fell 3.4% to 57p and Naked Wines (WINE), which dropped 3.1% to 267p.
The day's few risers included FeverTree (FEVR), up 2.3% to 2,141p, British American Tobacco (BATS), up 1.4% to 3,049.5p, Greggs (GRG), up 0.9% to 2,010p and SSP Group (SSPG), up 0.7% to 689p.
One international stock on the rise was Carlsberg, which jumped 4.2% to DKK990.20 as it upgraded its full year earnings expectations on the back of strong first half growth.
US retail giant Walmart surged 6.1% to US$112.69 as it beat first half analyst earnings predictions and posted higher second quarter organic growth that had been predicted.