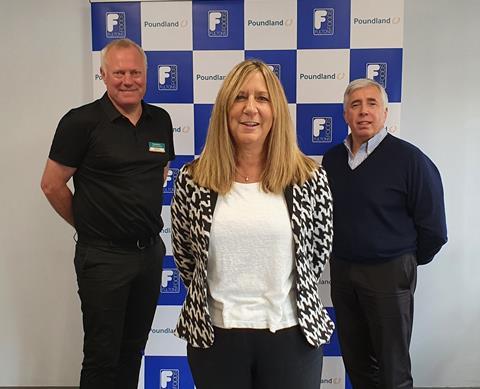 Poundland has bought frozen foods retailer Fultons Foods to boost the range of fresh and frozen food it sells across its estate.
Poundland has been working with the north of England-based retailer for the past 12 months to grow its food range and build a distribution network to serve stores.
The partnership has enabled Poundland to roll out frozen and chilled foods to more than 70 of its stores, and today's acquisition will see Poundland significantly extend the offer to another 40-plus stores by December.
The move is part of an ongoing drive by Poundland owner Pepco Group to widen the discounter's customer offer while also improving its operational gearing, primarily through reducing its in-store rents.
Alongside extending the range to a further 40-plus stores in 2020, Poundland plans to invest in excess of £25m over the next two years in its chilled and frozen operation to convert the most appropriate Fultons stores into a full Poundland format, retaining a frozen and chilled offer in each location.
The investment will also establish Fultons' Barnsley base as its national frozen distribution centre, and build the infrastructure at its Harlow DC to bring its frozen and chilled food offer to stores across the south of England.
The move will create around 1,000 full and part-time roles through the introduction of chilled and frozen in stores and the transformation of the distribution centres in Barnsley and Harlow.
Poundland expects to bring its chilled and frozen offer to a further 150 stores in the 2021/22 financial year and to as many as 500 stores over the next two years, making it an increasingly significant player in the near-£20bn UK chilled and frozen food market.
Both Fultons co-owners will remain involved in the business. Karen Rees will become MD reporting directly to Poundland MD Barry Williams. Kevin Gunter will continue in an advisory role for six months.
All 800-plus Fultons colleagues will join the Poundland team this month.
As part of the strategy to reinvigorate Poundland, the retailer is stocking the Pep&Co fashion brand to more than 310 locations and its home range in all stores.
Poundland will also complete the first phase of its chain-wide 'simple pricing' rollout next month, ensuring every category has extended ranges at prices above and below £1.
As well as investing in stores, Poundland's transformation plan also includes the pilot of new free-from ranges and beers, wines and spirits in selected stores.
Barry Williams, Poundland MD, commented: "We couldn't have developed our chilled and frozen ranges without Fultons' expertise and now is the right time to move to the next level and bring the team on board.
"By combining our experience, we can accelerate our frozen and chilled rollout and bring the amazing value it offers to more of our customers across the UK."
Fultons MD Karen Rees said: "For the past 12 months we've been proud to partner with Poundland, but even prouder that today we become family.
"We already know the Poundland customer loves our frozen and chilled foods offer – and we're excited to know our people will be able to play a bigger part in Poundland's transformation story."
Fultons chairman Kevin Gunter added: "After leading the business for 24 years, I'm pleased we've been able to agree terms with Poundland who are committed to a renewed period of growth and investment. I'm looking forward to contributing in an advisory role over the next six months."