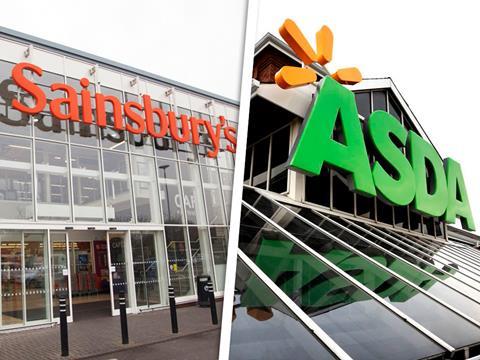 Top story
Sainsbury's (SBRY) and Asda will today lodge an application for a judicial review of the Competition & Marketes Authority investigation into their proposed merger to seek more time to respond to the issues raised.
This application to the Competition Appeal Tribunal requests a review of the timetable and process as they claim the current timetable does not give them or the CMA "sufficient time to provide and consider all the evidence given the unprecedented scale and complexity of the case".
"Both Parties have engaged constructively with the CMA to date and have made repeated requests for additional time," the pair said in a statement.
Specifically, Sainsbury's and Asda have asked the CMA for an additional 11 working days over the Christmas period to respond to a large amount of material recently provided to us.
The pair claim that without this time they will not be able to respond "meaningfully to many of the key issues or have an effective oral hearing".
"We are confident in the merits of the deal and our ability to deliver the synergies. By bringing our two businesses together, we will invest further in range, quality and customer service, while lowering prices and reducing the cost of living for millions of UK household," a joint statement said.
A spokesperson for Sainsbury's and Asda said: "This is a case of unprecedented size and complexity and we have a responsibility to our customers and colleagues to ensure that we and the CMA have enough time to make and consider all the facts and evidence. This is not a decision we have taken lightly. It is about ensuring a thorough process and reasonable timetable. We remain confident in the case for merging the businesses and the significant customer benefits.
"Customers will be the big winners from the combination. Together, we will be able to improve our range, quality and customer service, while lowering prices and reducing the cost of living for millions of UK households."
Sainsbury's and Asda revealed their shock £15bn merger plans in April 2018.
The CMA announced it would move to an in-depth phase 2 investigation in September.
Morning update
British American Tobacco (BATS) has issued a pre-close trading update for its second half ended 1 January 2019.
The FTSE 100 tobacco giant said the business "continues to perform well and full year guidance remains unchanged".
It saw continued market share growth in combustibles, driven by its strategic brands and is on target to exceed the 5.5% full year price mix achieved in 2017
Industry volumes are expected to decline by 3.5% in the full year, but BAT has grown market share by 40bp in the year to date driven by a 180bp increase in strategic brands.
BAT said it will deliver good adjusted revenue and adjusted operating profit growth, on a constant currency representative basis, weighted towards the second half of the year.
Its tobacco alternative products are on track to reach £900m of full year reported revenue. Its Glo product is now in 16 markets globally and share in Japan continues to grow and is now 4.6%.
It added it remains "well placed to manage US regulatory proposals" relating to vaping and menthol cigarettes.
"We have experience in managing regulatory change over many years [and] we are constructively engaging regulators and supporting evidence-based regulation."
"Regulation of menthol in cigarettes should be developed through a comprehensive rule-making process, be based on a thorough review of the science and consider the unintended consequences, in order to withstand judicial review."
CEO Nicandro Durante commented: "We remain on track for a strong performance in 2018 - driven by both our combustible and PRRP businesses.
"In the US, we are performing well, with positive pricing and continued value share growth. Our de-leveraging remains on track and we remain committed to a dividend pay-out ratio of at least 65%. We expect to exceed our high single figure adjusted diluted EPS growth at constant rates of exchange."
Yesterday Marks & Spencer (MKS) announced it had appointed former Sainsbury's CEO Justin King as a non-executive Director with effect from 1 January 2019.
Prior to his decade as chief executive at Sainsbury's, he was one of the pioneers of the development of Simply Food at M&S and previously one of the leadership team responsible for the turnaround of Asda.
Steve Rowe, M&S CEO, commented: "I am delighted that Justin has agreed to join us. As we navigate the challenges ahead it will be enormously helpful to have his experience, wisdom and insight on the Board. Many colleagues remember his time at M&S and will warmly welcome him back."
Archie Norman, M&S Chairman, added: "Justin's appointment completes a very significant reorientation of the board in the last year. He will be a great addition to a strong team."
King said: "Having worked there 15 years ago, M&S has a very special place in my affections. I look forward to joining the Board and supporting Steve in the turnaround that he is leading."
On the markets this morning, the FTSE 100 is up 0.5% to 6,838.4pts.
Early risers include PureCircle (PURE), up 2.8% to 277.5p, Devro (DVO), up 2.2% to 161.8p, FeverTree (FEVR), up 1.5% to 2,293.7p and PayPoint (PAY), up 1.5% to 817p.
Fallers include Sainsbury's, down 3.3% to 286.5p, McColl's (MCLS), down 2.6% to 59.6p and Marks & Spencer (MKS), down 1.2% to 272.1p.
Yesterday in the City
The FTSE 100 bounced back from its Brexit inspired slump on Tuesday, rebounding by 1.3% to 6,807pts after earnings data revealed that British workers secured their biggest pay rise in a decade in October.
The latest Kantar Worldpanel grocery market share figures released yesterday showed the weakest supermarket sales growth since March 2017 as the industry heads into the vital Christmas trading period.
The supermarkets generally trended upwards, though below the average market rise. Morrisons (MRW) was up 1.3% to 226.4p, Ocado (OCDO) rose 0.8% to 796p ahead of a trading update tomorrow, Sainsbury's (SBRY) was up 0.7% to 296.4p and Tesco (TSCO) rose 0.4% to 197.3p.
Convenience chain McColl's (MCLS) continued to tumble after its profit warning last week, sliding another 7.3% to 61.2p, meaning its value more than halved in the past two weeks.
Other fallers included Purecircle Limited (PURE), down 2.9% to 270p, Devro (DVO), down 2% to 158.4p, and Hotel Chocolat Group (HOTC), down 1.8% to 273p.
The day's biggest risers included Smurtfit Kappa Group (SKG), up 2.8% to 1,989p, Stock Spirit Group (STCK), up 2.6% to 213.5p, Just Eat (JE.), up 1.8% to 550.2p, and Hilton Food Group (HFG), up 1.8% to 900p.