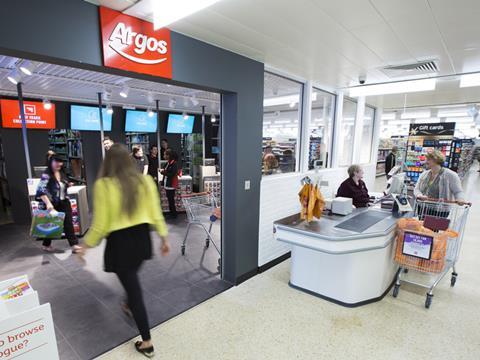 Sainsbury's (SBRY) has confirmed it has made a tweaked £1.4bn bid for Home Retail Group (HOME) after its rival in the bidding battle, Steinhoff, pulled out of the race today.
Sainsbury's offer is worth 55p per share in cash and 0.321 new Sainsbury's shares – valuing the bid at a total or 173.2p per share – a considerable rise on the 161.3p per share deal it provisionally agreed with Home Retail at the beginning of February.
Sainsbury's said that, following due diligence, it now expects a higher level of EBITDA synergies of not less than £160m in the three years after completion – a rise of £40m over the £120m of synergies already identified.
The value of Sainsbury's new bid is supported by a rise in its own share price of nearly 20% since the last week of January, boosting the share offer aspect of the deal.
Sainsbury's provisionally agreed a £1.3bn takeover deal with the Home Retail board on 2 February, offering the same 0.321 new Sainsbury's shares and 55p per share deal, which at the time valued the bid at 161.3p per share.
Commenting on the announcement, Sainsbury's chairman David Tyler said: "The UK grocery retail industry is undergoing a period of intense change in customer shopping behaviour and in the competitive environment. Against this backdrop, Sainsbury's has performed resiliently by offering great quality products at fair prices, by providing a differentiated service, and by developing strong multi-channel capabilities. All of this continues to be underpinned by our core values.
"This combination with HRG presents an opportunity to accelerate our strategy, delivering compelling revenue and cost synergies. We will create a multi-product, multi-channel proposition with fast delivery networks that we believe will be very attractive to the customers of both businesses."
Sainsbury's said the cost synergies would be centred on cost saving and revenue gains from Argos concessions in Sainsbury's, removing duplication and overlap from both central and support functions at Sainsbury's and HRG, revenue synergies from the sale of Sainsbury's clothing, homewares and seasonal and leisure ranges through the existing Argos network as well as the roll-out of Sainsbury's ATMs to Argos locations.
Sainsbury's expects the deal will result in a double digit earnings boost (excluding the effects of implementation costs) and a low to mid-teens return on invested capital (inclusive of implementation costs) in the third full year following completion.
Sainsbury's shares dropped 3% to 273.2p on confirmation of the increased bid.
Home Retail shares are 9.9% down to 163.2p after Steinhoff announced it was pulling out of its proposed 175p per share offer earlier this afternoon.
South African retail group Steinhoff earlier declared it has "no intention" of making a formal offer for Home Retail, leaving the coast clear for Sainsbury's to take over the Argos owner.
Confirmation of Sainsbury's offer came 30 minutes before the takeover panel's deadline for a formal offer.