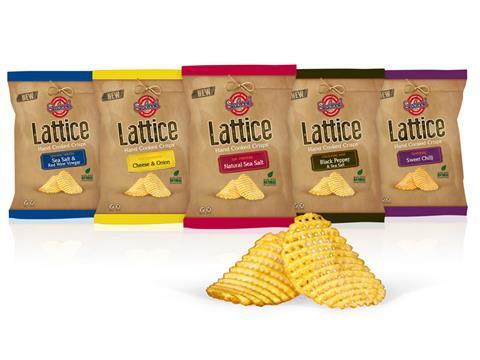 A significant windfall from LDC's investment in posh mixer brand Fever-Tree following last year's IPO has obviously whetted the firm's appetite for more deals in the space.
The private equity house will have its work cut out if it hopes to replicate similar returns from the majority stake in snack maker Seabrook Crisps, which operates in a brutally competitive market dominated by Walkers and its parent company PepsiCo.
However, Seabrook CEO Jonathan Bye and the investment team at LDC see clear and lucrative room to grow the Yorkshire business into a fully national brand – and the case is certainly compelling.
Bye, a 30-year grocery veteran, who spent a stint in charge of Vimto, has worked wonders since joining the company in 2012. The brand was losing money as sales fell thanks to the government taking aim at salty, "unhealthy" snacks leading to a slump into the red with pre-tax losses of £1.7m in 2011. Seabrook gained a number of new deals with the supermarkets, as well as in discount chains, and introduced new ranges under a three-year growth plan, helping it climb back into the black and start to grow the top line once again towards £30m.
Ged Gould, a director at LDC and part of the team leading the deal process, said the work completed by Bye was key in attracting the firm's interest. "The base case for investing was to continue what the team has been doing and grow distribution points in the UK, particularly in the South where we think there is a really big opportunity," he adds.
North/South divide
Seabrook, headquartered in Bradford, has a loyal following in its northern heartland, with many – including me – having fond memories of school lunchboxes complete with a packet of crinkle-cut prawn cocktail crisps. Gould says brand awareness in the north is at about 92%, but just 32% in the South. Part of the investment will be used to raise awareness with marketing campaigns in local areas in the South and more point-of-sale in stores.
"We're definitely under-represented in the South. Where we compete in the North we are the number two crisp brand so if we can replicate that across the UK we would have a very successful investment," the LDC man adds.
Bye also said the South was "hugely wide open" for Seabrook, with the new lattice range launched last year just as popular below the Midlands as above. "It goes to show if we get decent distribution in the South the brand is fully accepted, people buy into it and like the product," he adds.
A key to the southern strategy will surely be focused on winning listings with Sainsbury's, which is the only one of the big four where it is not currently stocked. And given the supermarket's strength in the South and South East when compared with the Yorkshire-headquartered grocers, winning over Mike Coupe's buying team would unlock that massive growth potential LDC hopes to tap into.
Space race
"If you walk into a shop in Yorkshire we have full bays and even that isn't enough space for us," Bye says. "If you go in a shop in the South, we might have two shelves out of a bay. The big opportunity for us is to get more space down there. The key is up here people have grown up with the brand, in the South what we want to do is build the awareness with some of the investment we're getting, get people to try it and then get more space to drive availability in store."
He also points to further untapped potential in the North with smaller independent stores that don't have room to stock anything other than Walkers.
Range reviews and culling SKUs
Tesco current range review is a problem that must keep many suppliers awake at night, none more so than in the over-saturated snacking category but herein lies another opportunity for Seabrook. Supermarkets need a strong challenger brand to put up against the might of Walkers, which dominates the bays in stores.
Bye is cautiously optimistic when viewing the "monstrously competitive" retail market, relying on a rate of sale which "significantly and consistently" outsells its competitive set outside of Walkers flat-cut classic range. He bolsters the case by pointing out the rate of sale per store per week is better than Walkers crinkle and deep ridge products and other brands such as Golden Wonder. The figures back up Bye, with Seabrook's sales up 12.9% to £32.7m [IRI 52 w/e 28 February 2015], compared with total category value growth of 2.1% [Kantar 52 w/e 1 February 2015].
Bye says: "The supermarkets want a successful challenger brand for Walkers and PepsiCo, they want someone who is bringing out innovations – and our lattice range is proper innovation – so we're hitting the right buttons but you have to keep on doing it.
"We have 70 years' heritage, so it's all about leveraging that and that is where the investment comes in. We could have carried on as we were but the backing of LDC lets us enhance the growth."
International ambitions
LDC, in its official release announcing the deal, talked about progressing international sales opportunities. It is clear that all involved would kill to replicate the Tyrrells' model, with 20% of sales coming from overseas and a Queen's Award for exporting under its belt. An important part of Tyrrells' success has been its quirky brand identity, which plays heavily on international appetite for all things British.
Bye argues that 'Made in Yorkshire' presents even greater opportunities than 'Made in the UK'. "British-made is huge but if anything Yorkshire is even bigger, which is primarily legacy of the Olympics with Yorkshire doing so well and the Tour de France last year."
And the lattice crisps and sharing bag sizes positions the brand to take a serious charge at mainland Europe. "The small multipack bags sold here is primarily a UK thing," Bye says. "We haven't had the appropriate product for international business until last year and now lattice offers us a point of difference in terms of product and the opportunity. We will in time look to push that more but at the moment there's far more of a UK focus."
Appetite for deals
As we reported yesterday, Seabrook is eyeing potential bolt-on acquisitions to broaden its portfolio and expand into new snacking categories. This broadening of the portfolio will also mean new products manufactured in-house in Bradford, with cash to buy new kit.
Efficiencies and cost-cutting
With opportunities come risks. And bringing in private equity money can lead to worries of cutbacks in staff as money men look to make efficiencies and drive margin. But Bye insists the deal is not just good news for the exiting Brook-Crispin family, but good news for Bradford and the workforce which it expects to grow from the current 150 once growth targets are hit.
And he makes the point that when he joined Seabrook three years ago the team acted like an entering private equity firm. "When we came in three years ago when the business was in severe financial difficulty we did the kind of things a lot of PE do when they come in. We have already right-sized the business. There is no threat to jobs here at all."
He adds: "We have to be as lean and as efficient as we can from a cost point of view because our category is 80% or 90% sold on promotion, so we have to have a business that is fit for purpose effectively at promotional margins. Therefore with LDC's backing we're going to look at any and all ways to reduce our operational and production costs. And that is the key because it will not get any less competitive when businesses such as Walkers and PepsiCo dominate the category."