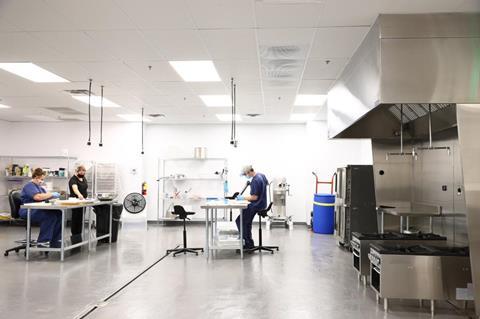 Recently launched buy-and-build cannabinoid group Tenacious Labs has made its second acquisition since launch, buying Colorado-based contract manufacturer SZM in a cash-and-shares deal
The acquisition of the 10-employee-strong brand follows the group's maiden acquisition of Colorado-based, female focused wellness brand Press Pause in April 2021, and represents a "significant step in the group's international growth strategy".
Founded by Zac Larsen in 2018, SZM supplies B2B customers across North America with premium hemp-derived, cannabinoid-infused products.
The company is responsible for the formulation, production and packaging of products in house, including edibles, soft gels, pet products and beverages.
Tenacious said SZM boasts "one of the newest facilities in the industry, designed specifically for large-scale manufacturing" and gives it its first wholly owned and operated end-to-end production line.
As a part of the acquisition, Larsen will join Tenacious Labs as head of wellness and will be responsible for the development and sales of all products outside of the Press Pause lifestyle portfolio.
Meanwhile Michel Defenbau, currently COO at SZM, will join the group as head of production, bringing 35 years' experience in production and manufacturing.
Tenacious Labs CEO Nicholas Morland commented: "This is another important step in Tenacious Labs' strategy to become the leading consumer-centric cannabinoid group in the world. This acquisition enables Tenacious Labs to not only ramp up its production capability but also adds industry-leading expertise in product quality, regulation, marketing, and new product development."
Chief commercial officer Adrian Clarke added: "With this, our second acquisition, we've significantly strengthened our North American operations to include a world class production facility, which will help support our ambitious global growth strategy."
"We continue to see significant potential for further acquisitions as we execute our ambitious strategy and are actively appraising a number of further opportunities that will strengthen our position, increase our scale and integrate industry-leading expertise into the group."
Co-founded earlier this year by Clarke and Morland, Tenacious Labs aims to become "the leading consumer-centric cannabinoid group in the world".
Tenacious Labs' parent company, Delarki, has committed £9.5m in funding to support the group's growth strategy and operations.
It plans to launch in the UK with two new brands in the coming months – Walker & Morland, a CBD brand created to help those who suffer from chronic pain and anxiety; and Hoo Raa, a CBD brand designed to help manage mood.