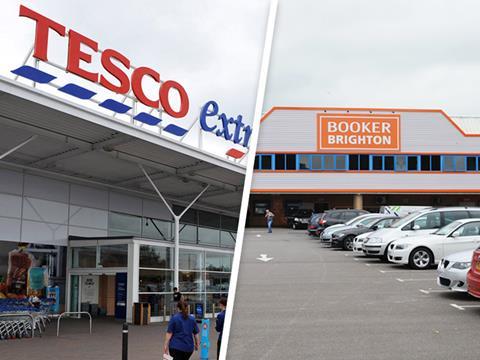 Tesco (TSCO) has swooped in a surprise deal to acquire listed wholesaler Booker (BOK) in a deal worth £3.7bn.
The share and cash merger, already agreed by both groups, will create the UK's leading food business and "delight consumers with better availability of quality food at attractive prices across retail and eating out locations".
Tesco said in a statement to the London Stock Exchange that the deal would bring benefits for consumers, independent retailers, caterers, small businesses, suppliers, and colleagues, as well as delivering significant value to shareholders.
Booker shareholders will receive 0.861 new Tesco shares and 42.6p in cash per share. Based on the closing price of 189p per Tesco share on 26 January 2017 (the last business day before the date of this announcement), the deal is worth 205.3p per Booker share and values the wholesaler at £3.7bn.
It represents a premium of 12% to the Booker closing price of 183.1p a share. Booker shareholders will own 16% of the combined business after completion.
Booker CEO Charles Wilson will join the combined group's board and executive committee.
Tesco CEO Dave Lewis said: "Tesco has made significant progress in turning around our UK retail business. This merger with Booker will further enhance Tesco's growth prospects by creating the UK's leading food business with combined expertise in retail, wholesale, supply chain and digital. Wherever food is prepared and eaten - 'in home' or 'out of home' - we will meet this opportunity with the widest choice and best service available."
Charles Wilson added: "Booker is committed to improving choice, prices and service for the independent retailers, caterers and small businesses that we are proud to serve. We believe that joining forces with Tesco offers the potential to bring major benefits to end consumers, our customers, suppliers, colleagues and shareholders."
Tesco added that following its improved performance and the board's confidence in its future prospects, dividend payments will recommence in the 2017/18 financial year. Shareholders last received a pay out more than two years ago in December 2014.
The deal with Booker is also expected to bring significant synergies. Tesco said it expected the combined group to reach a run-rate of at least £200m a year by the end of the third year following completion of the merger. It will be made up of quantified revenue synergies of at least £25m per annum, along with at least £175m from procurement and distribution synergies.
Tesco shares have rocketed 8.5% to 206p on markets opening this morning and Booker's stock has soared 14.2% to 209.7p.
The deal has been unanimously recommended by both boards, but will still needs a green light from Tesco and Booker shareholders, as well as approval from the CMA.