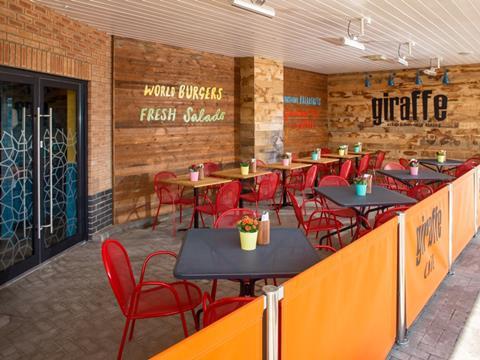 Tesco (TSCO) has agreed to sell Giraffe to 2 Sisters owner Ranjit Boparan as the supermarket continues its strategy of disposing of non-core assets.
The retailer announced its intention to sell the loss-making restaurant chain to Boparan Restaurants Holdings on the London Stock Exchange this morning.
Tesco spent close to £50m to buy Giraffe three years ago but did not disclose the sale price for the 54 standalone restaurants and three in-store restaurants. However, retail analysts expected a small loss on disposal.
Ranjit Boparan also owns the Harry Ramsden's fish and chips chain, as well as other restaurants, including Fishworks and The Cinnamon Club. His 2 Sisters Food Group supplies Tesco and other supermarkets with chicken and ready meals, as well as Goodfella's pizzas and Fox's Biscuits.
Tesco also confirmed the proposed sale of its 95.5% controlling stake in the Kipa business in Turkey to Migros. The disposal, subject to usual local regulatory approvals, will result in estimated cash proceeds of around £30m and contribute to a reduction of about £110m in total indebtedness, the supermarket said.
Since CEO Dave Lewis took over, Tesco has weighed up offloading a number of non-core assets as part of attempts to turnaround the ailing retail giant and reduce debt. South Korean business Homeplus was sold last year for £4.2bn and an 8.6% equity stake in South East Asian e-commerce group Lazada was snapped up by Chinese retail giant Alibaba for $129m (£90.5m) in cash in April. Tesco also closed its Nutricentre health food business in March and shelved the sale of data arm Dunnhumby after failing to generate enough interest at the £2bn asking price.
Speculation is also rife that the sales of Dobbies garden centre and the Harris + Hoole coffee chain are close.
"As we stabilise the business in the UK, we continue to focus on where we can best serve the needs of our customers, while ensuring our business remains sustainable for the long-term," Lewis said.
"Giraffe is a much-loved brand, and while casual dining remains an important part of the shopping trip for many of our customers, we will continue to meet these needs through our Tesco Cafés and other providers. I'd like to thank colleagues from Giraffe for all their hard work in serving our customers and we look forward to seeing it develop in the future."
HSBC analyst Dave McCarthy welcomed the sales of Kipa and Giraffe as removing two management distractions. He added the Kipa sale was "a good deal" for a business which lost more than £40m last year.
Bruno Monteyne of Bernstein said: "While Turkey and Giraffe were a small part of the Tesco business from a financial point of view, there is a greater impact on the business through focussing management's attention on the core business."
Shares in Tesco are down 2.2% so far today to 154.4p despite the disposals.