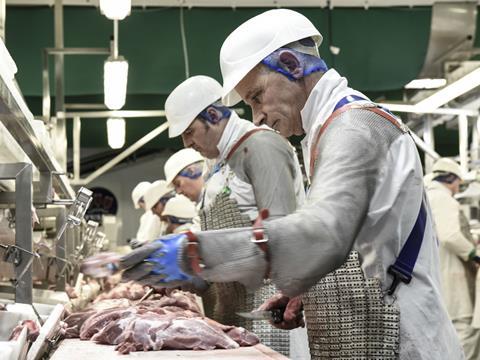 Moy Park owner Pilgrim's Pride has snapped up pork giant Tulip from Danish Crown in a £290m deal.
The transaction solidified US poultry processor Pilgrim's as "a leading European food company, creating one of the largest integrated prepared foods businesses in the UK with a portfolio of brands and retail private label solutions", it said. The deal was valued at 5.4 times its expected EBITDA for 2019.
The sale of Tulip to Pilgrim's, which is owned by Brazilian poultry giant JBS, follows a turbulent few years for the business, with profits tumbling amid pork market volatility and the loss of key supermarket contracts.
Despite protracted attempts by parent Danish Crown to turn the business around, Tulip reported a pre-tax loss of £85.4m in the year to 30 September 2018, up from £48.1m in the previous financial year.
Ongoing losses forced Danish Crown to implement a "comprehensive" cost-cutting programme. The past year has seen two rounds of job cuts, including 150 job losses across Tulip in November last year and a further 300-400 wider group roles in January.
However, the Danish farming co-operative noted in July its turnaround efforts had started to have an effect. Trading had improved since the end of the 2018 financial year, it said.
Tulip operates 12 fresh and value-added manufacturing sites in the UK and employs more than 6,000 staff. Under the terms of the agreement, Danish Crown will continue to supply Danish pork to Tulip under a long-term supply agreement. The deal is expected to be completed in early autumn, subject to approval by competition authorities.
Strengthened European platform
"We are pleased to strengthen our European foods platform with the acquisition of Tulip, which positions Pilgrim's as a leading global prepared foods player," said Jayson Penn, Pilgrim's global CEO.
"The transaction represents the logical next step in our evolution to expand our geographical footprint, enhance our value-added portfolio and reduce volatility across our business with a more stable margin profile," he added.
"Tulip's integrated production platform, consumer-ready innovation capabilities, well-invested assets, established customer relationships and strong leadership team will solidify Pilgrim's platform for growth in the attractive UK market."
There is currently no indication whether the acquisition will lead to any further job cuts or any integration with Pilgrim's existing Moy Park business.
Penn said Pilgrim's would welcome the "talented Tulip team members and management team, led by Andrew Cracknell, to the Pilgrim's family, and we look forward to working together to drive growth and deliver value for our stakeholders".
Tulip CEO Cracknell said Pilgrim's was acquiring "an industry-leading farming operation, a strong team of dedicated people and a network of well-invested manufacturing sites".
"Our companies share a rich heritage in agriculture and food production with aligned values that put people and customers at the heart of all we do."
Danish Crown group CEO Jais Valeur said Pilgrim's was "strongly positioned within the UK chicken market and would like to strengthen its position within the market for pork".
He added: "On our part, we want to simplify our UK business. We will supply Danish pork to Pilgrim's, so all in all the transaction holds out interesting perspectives for both parties."