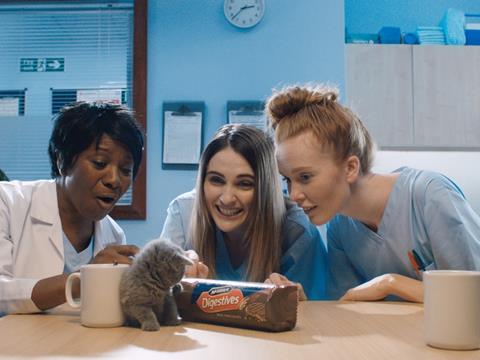 The long wait for a significant IPO of a UK food and drinks business goes on after United Biscuits was sold to Turkey's Yildiz food group today.
UB had been one of two potentially blockbuster listings, along with Marfrig's Moy Park, lined up for this autumn. Now neither is now happening this year as a dramatic worsening of equity market conditions has taken its toll.
Although sources close to the UB sale said the dual-track sale process had continued right up until today, the reality is that UB's owners Blackstone and PAI Partners were facing a choice between an immediate private sale or a float with uncertain prospects that would most probably have dragged on into 2015.
An IPO had looked the favourite outcome until recent weeks – with the public markets thought likely to pay a higher price than a private sale – but faced with the current options in front of them, it can be no surprise that UB's owners went for the cleaner and more straightforward sale route.
That preference for a more straightforward process can also be seen in their choice of the winning bidder.
Of the three bidders, Kellogg's looks to have been ruled out due to the lower value of its bid, but Ontario Teachers' Pension Plan-owned Burton's Biscuits was a more viable option. However, a UB sale to Burton's would have resulted in a more difficult path to secure regulatory approval, despite Burton's efforts to sell its licence to produce Cadbury-branded goods in the UK to Mondelez to try to appease UK regulators.
Of the three bids, Turkey's Ulker offers the simplest path for Blackstone and PAI Partners to realise the investment they first made back in 2006.
Having seen a sale to China's Bright Foods fall through in 2012, the pair will not shed many tears that the potential of a higher valuation via IPO has been sacrificed. Although, if the rumoured £2bn price tag is close to the final price, it may be that the public markets wouldn't have paid too much more for UB in any case. £2bn represents around 12 times the company's 2013 EBITDA of £164.1m, which already looks a fairly full valuation.
What the deal does illustrate again is the demand from companies in emerging economies for high quality food and drink assets from the UK and Western Europe – with the deal adding to Bright Food's takeover of Weetabix in 2012 and the same firm's acquisition of Italian olive oil maker Salov last month.
The deal also looks to be a good strategic fit for Yildiz, which owns biscuit company Ulker Biskuvi. The privately-owned food group is the largest in the central/eastern Europe, Africa and the Middle East region but lacks a real brand and manufacturing presence in the UK.
Yildiz has vowed to grow Ulker and UB together into new markets and product areas, noting that the two firms now account for the world's third largest biscuit maker and complemented each other's ranges and international footprints.
Yildiz said in a statement it will "work closely with United Biscuits' management team to drive further growth for the combined business by leveraging Yildiz's extensive distribution network in international markets and through continued investment in master brands, expanding the product portfolio and the introduction of new categories through innovation."
UB has grown its international footprint significantly in recent years, notably in emerging markets, but saw overall revenues fall in 2013. UB saw a 3.4% fall in business profit (earnings before depreciation, amortisation and tax) at an international group level, factoring out the impact of the sale of its KP snacks business, explaining that "2013 saw continued challenging market conditions with a slow return of consumer confidence but, as yet, little sign of economic recovery creating an increase in spending on snack products."
One suspects that Yildiz will have grander plans for UB than a 3.4% sales decline.
Before the sale, a source told The Grocer that the City's reception to a possible UB float had been largely positive. It does seem that the investor community would welcome more exposure to the under-represented food and drink sector – the question after UB's sale is who will now be brave enough to test that sentiment out.